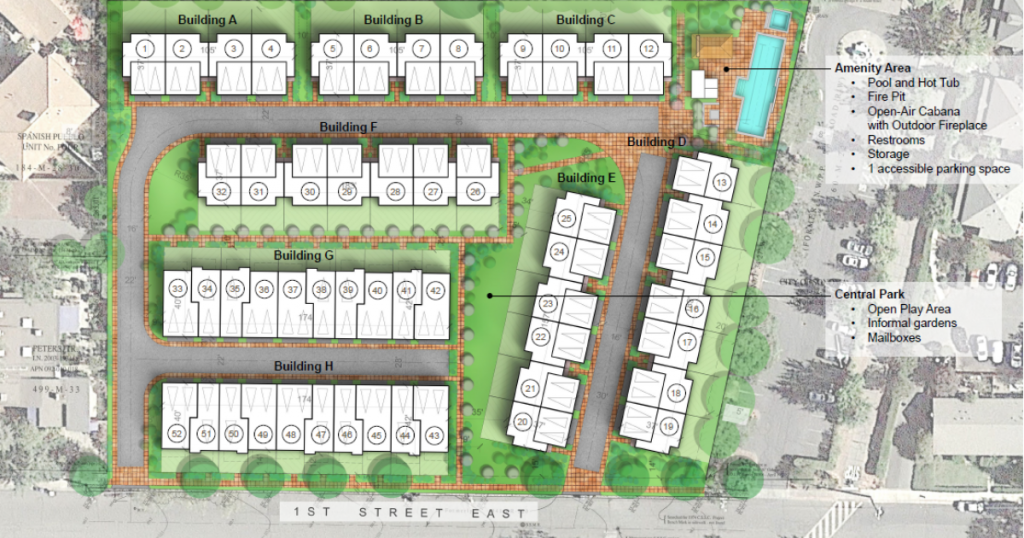 Project Location: 216, 230, 254 1st Street East, Sonoma, CA
Project Description: The 1st Street East Townhomes project consists of the remodel of two existing occupied residences and new construction for a total of 52 units, ranging in size from approximately 1,900 square feet to 2,500 square feet (including garages). No existing residential units are to be demolished, nor are existing units "protected" or subject to rent control. The units are for rent. No major physical alterations are proposed to the site.
Any and all trees over 12" inches in diameter that are removed will be replaced at a minimum of a 1:1 ratio. Each unit is provided with either a private front courtyard or a private rear yard. Over 16,000 square feet of common open space is provided, in a combination of two interconnected central community open spaces and two smaller pocket open spaces.
The project is designed in a contemporary architectural style, using materials including wood siding, brick, metal, and stucco.
Contact:  Planning Department at  (707) 938-3681 or Email
Project status updates and documents are provided below.  Please note that large documents might not be able to be previewed, but can be viewed by clicking the "download" link.