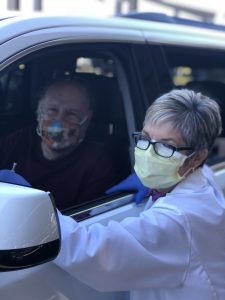 Para traducir esta página, desplácese hasta el final, haga clic en "Translate", y seleccione su idioma.
A COVID-19 vaccine is one of the most important tools to end the COVID-19 pandemic. A safe, effective, no-cost COVID-19 vaccine will be available to everyone in California who wants one. The vaccine, paired with other daily health habits, such as wearing face coverings and social distancing, will slow the spread of COVID-19 disease in our communities.
As of February 22nd, Sonoma County residents 65 years and older, food and agricultural production workers, childcare workers, educators, grocery store workers and restaurant workers are now eligible to receive the COVID-19 vaccine in addition to all Phase 1a groups. Learn more about the County of Sonoma vaccine distribution plan including phases, populations and a timeline of when vaccines are expected to be offered to each population on their website.
Find links to local and regional vaccine clinics, sign up for eligibility notifications, find help getting to a vaccination appointment and more below.  If you or a loved one needs help navigating the vaccine appointment enrollment process, reach out to someone who can help you – a friend, a family member, or local helpers at Vintage House and La Luz Center - Se habla español.
Please Note: The City of Sonoma does not distribute or administer vaccines. This page is intended to help residents navigate the various vaccination options and resources available in our region. This page will be updated as information and resources become available. Individual vaccination clinics may not offer vaccines to all eligible populations. Resources listed on this page are subject to change.
Sign Up for Notifications

For most, your primary care doctor, health group or employer will contact you to let you know when you are eligible for a vaccine and to schedule an appoitment. In addition to checking in with your health care provider, we recommend that you also sign up to receive notifications from the State and local Health Care partners to ensure you are informed of all opportunities when you are eligible.
*The Sonoma Valley Health Partners include the Sonoma Valley Hospital, the Sonoma Valley Unified School District, the Sonoma Valley Community Health Center, Sonoma Valley Fire District, Schelle-Vista Fire, and the City of Sonoma.  We work to schedule clinics locally when we can secure doses.  Clinics can be scheduled rapidly with short notice.