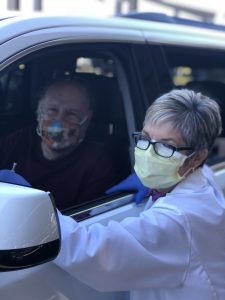 Para traducir esta página, desplácese hasta el final, haga clic en "Translate", y seleccione su idioma.
A COVID-19 vaccine is one of the most important tools to end the COVID-19 pandemic. A safe, effective, no-cost COVID-19 vaccine is available to everyone 12 years and older in California who wants one.
Find links to local and regional vaccine clinics, help with transportation and more below.  If you or a loved one needs help navigating the vaccine appointment enrollment process, reach out to someone who can help you – a friend, a family member, or local helpers at Vintage House and La Luz Center - Se habla español.
Please Note: The City of Sonoma does not distribute or administer vaccines. This page is intended to help residents navigate the various vaccination options and resources available in our region. This page will be updated as information and resources become available. Individual vaccination clinics may not offer vaccines to all eligible populations. Resources listed on this page are subject to change.
*The Sonoma Valley Health Partners include the Sonoma Valley Hospital, the Sonoma Valley Unified School District, the Sonoma Valley Community Health Center, Sonoma Valley Fire District, Schelle-Vista Fire, and the City of Sonoma.  We work to schedule clinics locally when we can secure doses.  Clinics can be scheduled rapidly with short notice.