Summary and Current Status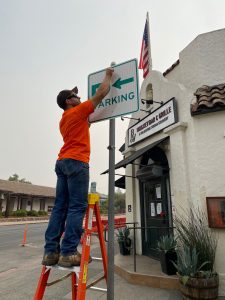 Among the goals established by the City Council is to develop a comprehensive, long-term parking strategy for the Downtown District, with a focus on parking on and around the Historic Plaza.
The City's planning department contracted with W-Trans to create a Draft Downtown Parking Management Plan that outlines a plan to address parking challenges in Downtown Sonoma. The public is encouraged to submit comments via email on the Draft Plan during the 30 day public comment period beginning October 16, 2022.
Next Steps
The Public Draft Parking Management Plan will be open for public comment for 30 days, closing on November 16, 2022. Next, the City's Planning Commission will consider the plan and provide staff with recommendations at thier meeting on Thursday, November 17, 2022.
Staff will then bring the plan with any revisions and/or recommendations from the Planning Commission to the City Council for consideration in early 2023 (Date TBD).
Subscribe to receive automatic emails when updates are published.
Find more information about the Draft Plan, updates, documents below. Please Please note that large documents might not be able to be previewed, but can be viewed by clicking the "download" link.
Questions? Contact the Planning Department:  Call (707) 938-3681 or Email
Draft Downtown Parking Management Plan
The Draft Downtown Parking Management Plan (Plan) summarizes the most recent parking inventory, supply, and demand study, including counts of the public on- and off-street parking supply. These counts are used to examine actual parking data and establish key parking trends throughout Downtown.
Based on the key findings from the parking data, this Plan includes a coordinated set of recommendations designed to improve parking. This Parking Management Plan buildings on a study of parking conditions in the Downtown area that was prepared in 2017.
The Parking Management Plan identifies specific parking strategies, which represent a toolbox of measures available to the City. To prioritize their application, they are broken into two phases: Phase 1 and Phase 2.
PHASE 1 - The strategies in the first phase are recommended because of their relative ease of implementation. These strategies require comparatively little management and may by themselves result in an acceptable parking system for the City. The first phase strategies are, however, limited in their effectiveness to manage parking demand and if the City finds they do not create a satisfactory parking environment, phase two strategies are available.
PHASE 2 - Phase two measures can be significantly more effective in managing parking demand and are primarily cost-neutral, but they require continual oversight to function well. Phase 2 strategies will be implemented on an as-needed basis at a later date.
The plan was presented to City Council at thier August 3, 2022 meeting. Watch a recording of the presentation (begins at 37:21).
Public comments can be emailed by November 16, 2022 to publiccomment@sonomacity.org