Current Drought Information

Due to historically low rainfall and continued dry conditions, our region is facing the second consecutive year of drought. A reduction in water use through conservation measures by the City's water customers is needed to preserve critical water supplies.

Learn more about stage 2 water conservation measures, report water waste and get answers to the most frequently asked questions below.

Photo: Councilmembers Kelso Barnett and Jack Ding along with Mike Brett, the City's water conservation coordinator, handed out drought kits during Sonoma Water's 'Drought Drop By' event in June 2021.
Stage 2 Water Shortage Effective July 1, 2021
Help Sonoma reduce water use by 20%

We are asking customers to save as much water as they can. The City of Sonoma has mandated a 20 percent reduction in overall water use in our service area.

Some customers can reduce their water use by more than 20%, while others are already saving water and using minimal amounts. With all of us making our best effort to save water, we can reach our collective conservation goal.
How much water are we saving?

City water customers did not meet reduction goals in July 2021 with just a 3.8% reduction in use but increased conservation efforts in August resulted in a 25.12% reduction in water use.

Keep up the good work Sonoma! Your water savings directly help save water in our reservoirs. With the potential for another drier-than-normal winter ahead, we all need to continue conserving as much as we can.

City of Sonoma water use reported to the State Water Board for the month of July:
July 2020             263.9099 acre-feet
July 2021             253.881 acre-feet
3.8% reduction in water use

City of Sonoma water use reported to the State Water Board for the month of August:
August 2020       262.8634 acre-feet
August 2021       196.842 acre-feet
25.12 % reduction in water use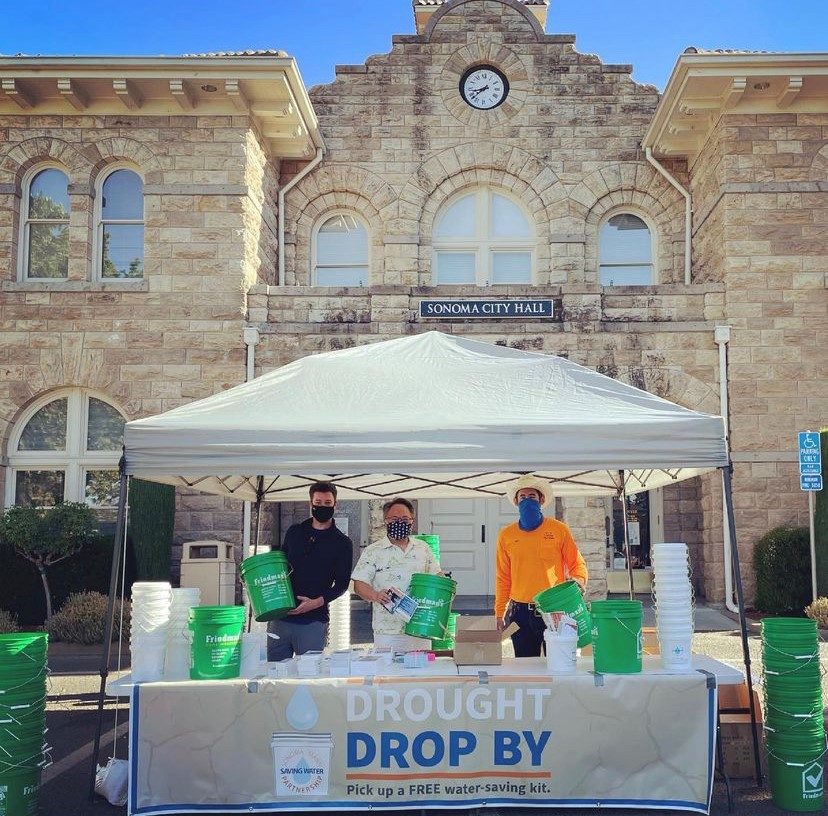 Background

On June 7, the City Council declared a Stage 1 Water Shortage with voluntary conservation measures.  Under Stage 1, all Sonoma residents, businesses, schools, and City facilities are urged to cut their indoor and outdoor water use by at least 15% and put in place Stage 1 water conservation measures.

On June 21,  in response to notification of reduced allocations of water from the Russian River through the Sonoma Aqueduct, the City Council unanimously voted to declare a Stage 2 Mandatory Conservation Water Shortage for the City of Sonoma water service area, effective July 1, 2021.  Stage 2 requires a 20% reduction in water use system-wide and a series of additional water conservation regulations, including a prohibition on residential and commercial irrigation except on Mondays and Thursdays from 8pm to 6am.  Learn more about Stage 2 water conservation measures here.