Current Drought Information
Due to historically low rainfall and continued dry conditions, our region is facing the third consecutive year of drought. A reduction in water use through conservation measures by the City's water customers is needed to preserve critical water supplies.
Learn more about stage 2 water conservation measures, report water waste and get answers to the most frequently asked questions below.
Photo: Councilmembers Kelso Barnett and Jack Ding along with Mike Brett, the City's water conservation coordinator, handed out drought kits during Sonoma Water's 'Drought Drop By' event in June 2021.
Stage 2 Water Shortage is still in Effect
Help Sonoma reduce water use by 20%
We are asking customers to save as much water as they can. The City of Sonoma has mandated a 20 percent reduction in overall water use in our service area.
Some customers can reduce their water use by more than 20%, while others are already saving water and using minimal amounts. With all of us making our best effort to save water, we can reach our collective conservation goal.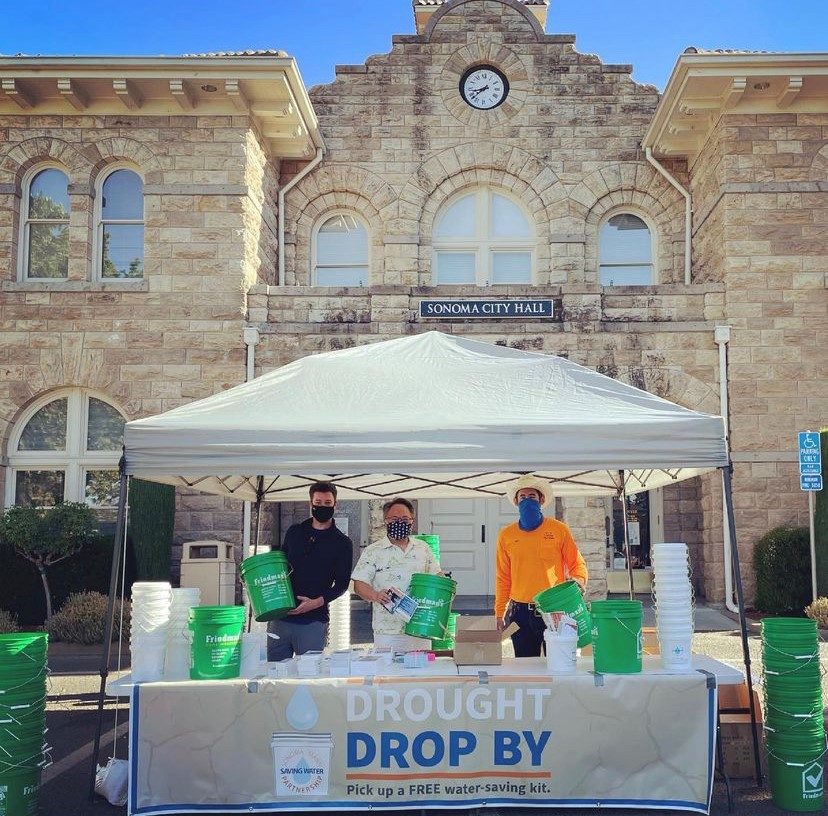 How much water are we saving?
City water customers' water conservation effortss from July 2021 through June 2022 have resulted in a 15.3% overall reduction in water use. Our goal is to reach a 20% overall reduction.
So far this year, water use, on average, has only decreased by 6.44%  (January 2022 - June 2022). The good news is that our customers reduced use by over 17% in June 2022…the largest decrease so far this year! We are excited to see the notable increase in conservation compared to earlier this year and encourage everyone to conserve where they can. Every drop counts!
City of Sonoma water use reported to the State Water Board for the month of:
June 2022: 17.8% reduction (2020, 232.5273 AF / 2022, 191.233 AF)
May 2022: 9.1% reduction (2020, 199.3175 AF / 2022, 181.282 AF)
April 2022: 11.2% reduction (2020, 147.119 AF / 2022, 130.664 AF)
March 2022: 4.5%, reduction (2020, 137.1782 AF / 2022, 130.982 AF)
February 2022: 20.1%, increase (2020, 93.8192 AF / 2022, 112.638 AF)
January 2022: 6.2%, increase (2020, 87.4618 AF / 2022, 92.852 AF)
December 2021: 11.4% reduction (2020, 117.672 AF / 2021, 104.254 AF)
November 2021: 46.3% reduction (2020, 166.456 AF / 2021, 89.4783 AF)
October 2021: 22.7% reduction (2020, 220.361 AF/ 2021, 170.33 AF)
September 2021: 23.9% reduction (2020, 245.7568 AF / 2021, 187.07 AF)
August 2021: 25.1 % reduction (2020, 262.8634 AF / 2021, 196.842 AF)
July 2021: 3.8% reduction (2020, 263.9099 AF / 2021, 253.881 AF)
AF= Acre Feet
Background
On June 7, the City Council declared a Stage 1 Water Shortage with voluntary conservation measures.  Under Stage 1, all Sonoma residents, businesses, schools, and City facilities are urged to cut their indoor and outdoor water use by at least 15% and put in place Stage 1 water conservation measures.
On June 21,  in response to notification of reduced allocations of water from the Russian River through the Sonoma Aqueduct, the City Council unanimously voted to declare a Stage 2 Mandatory Conservation Water Shortage for the City of Sonoma water service area, effective July 1, 2021.  Stage 2 requires a 20% reduction in water use system-wide and a series of additional water conservation regulations, including a prohibition on residential and commercial irrigation except on Mondays and Thursdays from 8pm to 6am.  Learn more about Stage 2 water conservation measures here.