Bienvenidos - Para traducir esta página, desplácese hasta el final, haga clic en "Translate", y seleccione su idioma.
The City has convened the Sonoma Valley Latinx COVID Support Task Force to bring key partners from local government, health care, business, and nonprofit organizations together to support our local Latinx community through the impacts of the coronavirus pandemic.
The Task Force meets weekly on a virtual basis to share information, educate, leverage, and coordinate resources.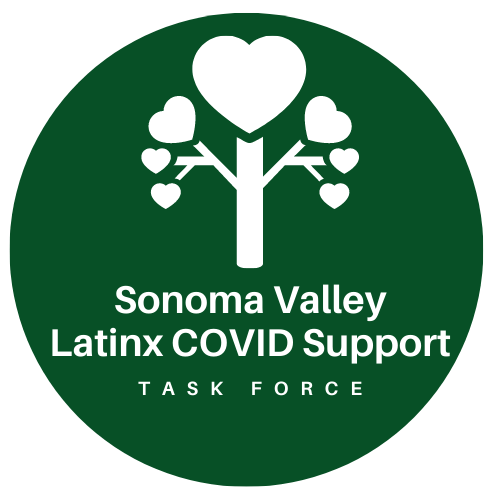 La Luz Center
La Luz Center has developed a bilingual and bicultural COVID community response to address the disproportionate effect of COVID on our Latinx community, called "For a +Health Sonoma / Por Un Sonoma+ Seguro."  This plan includes case management, community outreach, and community collaboration.
La Luz Center provides support and individualized assistance through one-on-one (virtual) consultations to understand each individual's personal situation, answer questions, and serve as a trusted and knowledgeable advocate. In addition to financial assistance and emergency relief programs, La Luz can provide help with qualification and application for public benefits including unemployment, Medi-Cal, and Cal Fresh (food stamps), as well as help with eviction prevention or rental assistance resources, clarification around COVID-19 employee rights, and other assistance.  To contact La Luz, call (707) 938-5131.
New Sonoma County Programs
The County of Sonoma has developed a suite of new Health Equity & Enhanced COVID-19 Response Strategies that aim to address the adverse and disproportionate impacts of COVID-19 within local Latinx and indigenous communities.
Testing & Isolation Support
The County will be providing financial assistance and resources to protect individuals in our highly impacted areas. Check to see if you can receive a gift card for getting tested, and over $1,000 if you need to isolate.
Emergency Financial Assistance
The CURA Project is a collaboration of community-based organizations that connect Latinx and Indigenous communities of Sonoma County to COVID-19 testing, healthcare, isolation care, emergency financial assistance, and other needed resources. To be matched with a case manager who will help in whatever way possible and apply for assistance, click here (espanol).
For those who need specific resources during the pandemic, such as free food distribution, free COVID-19 testing, legal aid, and other resources, click here. A resource navigator will contact applicants and, even if the navigator does not have the sought-after information, they will work to find an organization that can assist the applicant.
Emergency Sick Leave for those facing COVID-19
For employees who live in unincorporated areas of Sonoma County and at risk of losing wages because they are sick or caring for someone who has COVID-19, the Paid Sick Leave Ordinance can provide relief.
Once an employee has worked more than two hours for an employer in the county's unincorporated areas, they qualify for supplemental paid sick leave (SPSL). This means they can request wage replacement if they miss work because they have contacted COVID-19 or are caring for:
an immediate family member
a person who regularly resides in the employee's home
a similar person with whom the employee has a relationship that creates an expectation that the employee would care for the person
Qualifying care includes self-isolating or self-quarantining and assisting those who have to isolate or quarantine. Under the ordinance, full-time employees normally scheduled to work 40 or more hours per week are entitled to up to 80 hours of SPSL. Part-time employees normally scheduled to work fewer than 40 hours per week are entitled to an amount of SPSL no greater than the employee's average number of work hours.  An employer must provide SPSL payment upon an employee's written request, which includes email and text messages. If the employer refuses, the employee can contact the California Rural Legal Assistance at (800) 357-9513 or Legal Aid of Sonoma County at (707) 308-2512 to learn about their options.
Charla Comunitaria
Charla Comunitaria is an all-Spanish COVID-19 virtual series that is a bi-weekly Community Conversation every other Thursday. Charla Comunitaria participants are provided with an overall COVID-19 update, along with information on testing, financial and supplemental resources, healthy holiday celebrations, mental health and wellness, families and children, and the County's roadmap to recovery.  Incorporating celebrities and familiar faces from the community, the program provides updates in an informal but informative manner to the Spanish speaking community. For information contact Karina Garcia, Karina.Garcia@sonoma-county.org.