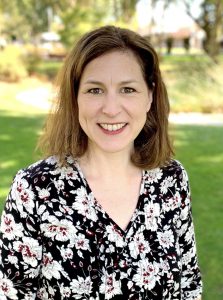 Erica Jacobs our new Senior Management Analyst in the City Manager's office. Erica recently moved to Sonoma County from the Seattle area, where for the past twenty years she has worked in a variety of planning, project management and policy roles for King County, Washington. Erica's recent work included leading the master planning and design for a bicycle and pedestrian trail in a historic former railroad corridor that would connect multiple cities with new non-motorized transportation opportunities. Erica has enjoyed building collaborative relationships with teams, stakeholders and community members throughout her career.
Erica grew up in Seattle and earned her Bachelor of Arts in Political Science from Western Washington University and a Master of Public Administration from the University of Washington. She currently lives in Petaluma with her two sons, ages 10 and 12 and her fiancé Tom, Erica is very happy to bring her love for public service to the City of Sonoma and looks forward to working with the community on a variety of important public projects and initiatives.
Welcome Erica, we're glad your here!