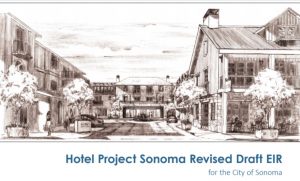 The Planning Commission will hold a public hearing to receive comments on Revised Environmental Impact Report (EIR) for the  "Hotel Project Sonoma" on Tuesday, September 4, 2018, at the City Council Chambers at 177 First Street West at 6:30 p.m.
The purpose of the meeting will be to review and receive comments on the Revised Environmental Impact Report relating to the Use Permit and Site Design and Architectural Review for the "Hotel Project Sonoma", located at 153 West Napa Street and 541 First Street West. The project consists of a 62-room hotel, 80-seat restaurant, and spa, with 115 off-street parking spaces and potential off-site parking at 136 West Napa Street. (Applicant: Kenwood Investments, LLC).
Public response requested: The public is hereby invited to comment on the Revised Environmental Impact Report by sending written comments to the Planning Department, c/o Sonoma City Hall or planning@sonomacity.org, no later than September 4, 2018. Interested persons are also invited to attend the public meeting and address any comments directly to the Planning Commission. The project application and related material are available for review at the Sonoma City Hall, No. 1, the Plaza, Sonoma, CA 95476. A staff report on the project will normally be available on the Friday prior to the Commission meeting.
The Revised Draft Environmental Impact Report has been completed and is now available for review and comment. It is available online, download now. The comment period will end on September 13, 2018.