The City Council will consider a change to the City's water connection charges on December 16, 2019.  Meeting agendas and staff reports for City Council meetings are posted at least 72 hours in advance at sonomacity.civicweb.net.  For a copy of the consultant report referenced below, contact the City Manager at (707) 938-3681.
The City's current Water Connection Charges are established by Resolution 56-2014, Section C.  These charges apply to new service connections as well as to changed or expanded use (Section G). Water Connection Charges include several components (Capacity Charge, Fire Service Only Charge, Front Foot Charge, and Meter and Lateral Installation Charges).
Staff is recommending the following changes:
 Water Capacity Charge
The current Water Capacity Charge is based on a methodology of single-family dwelling unit equivalencies.  The new Water Capacity Charge is based on analysis by the City's consultant, Raftelis, which calculated capacity charges using the equity buy-in methodology using Replacement Cost Less Depreciation (RCLD) to value City water assets. A copy of the analysis is available upon request.  The new Water Capacity Fee applies to all customer classes and meters based on meter size.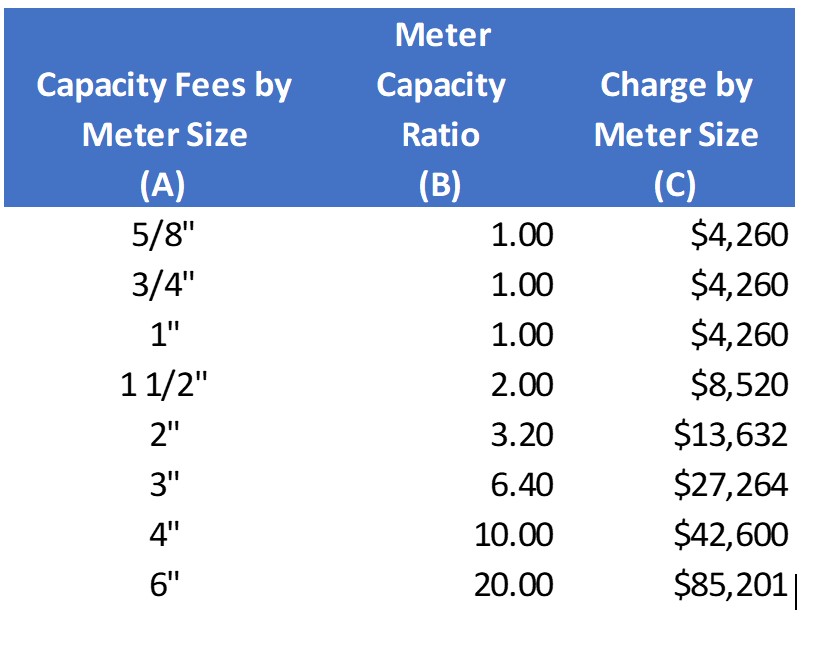 Fire Service Only
Under the proposed Water Connection Charges, there is no Water Capacity Charge for "fire service only" meters.
 Front Foot Charge
Under the proposed Water Connection Charges, the standardized Front Foot Charge will be eliminated.  In some cases, the Water Connection Charge shall include a front foot charge as described in City Code Chapter 13.24.  Determination of the appropriate Front Foot Charge, if any, would be made by the City Manager or designee on a case-by-case basis.
 Annual Adjustments
The current Resolution provides for an annual inflation adjustment to Capacity Charge, Front Foot Charge and Fire Service charges. The proposed changes would retain an option for annual adjustments but provide an alternative for regular adjustments to Water Connection Charges based on updates to the water asset inventory.
 All Other Charges (No Change)
There is no change proposed to the Meter and Lateral Installation Charge. All other rates, charges, fees, penalties, etc. shall be based on Resolution No. 58-2018 and Resolution No. 56-2014 until updated by subsequent action.