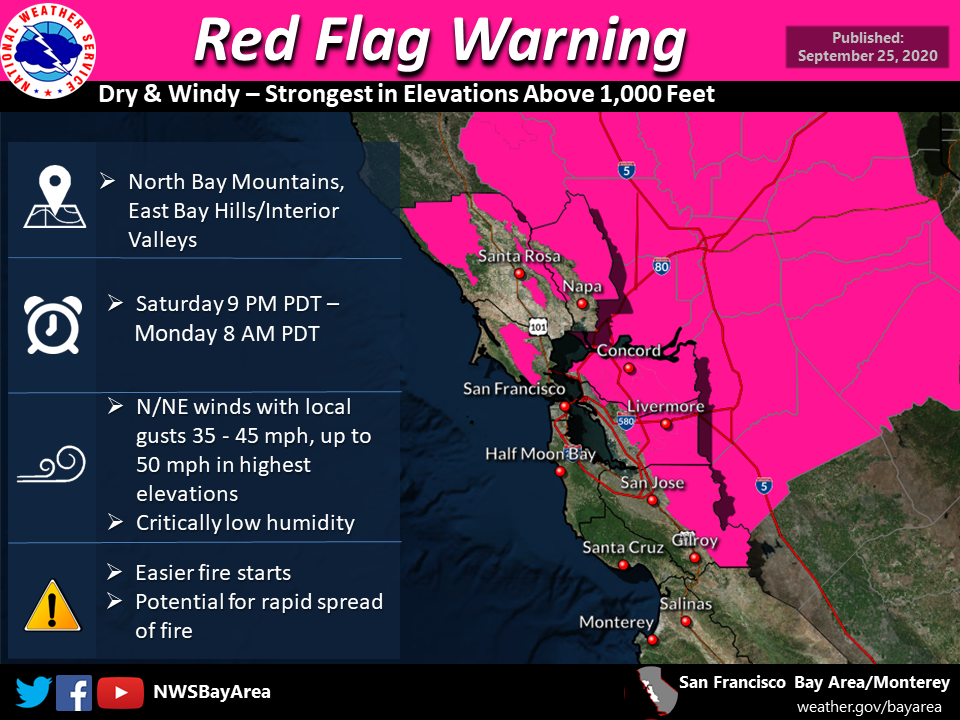 See 9/27, 12:20 PM Update: Red Flag Warning Extended, Heat Advisory in Effect, Smoke Drift Expected
Original Post:
The US National Weather Service has issued a Red Flag Warning for the North Bay Mountains beginning Saturday (9/26) at 9:00 PM to Monday (9/28) at 8:00 AM.
A Red Flag Warning is issued for weather events which may result in extreme fire behavior that will occur within 24 hours. A Red Flag Warning is the highest alert. During these times extreme caution is urged by all residents because a simple spark can cause a major wildfire. Learn more from CAL FIRE.
Due to these conditions, PG&E ‪has raised the Public Safety Power Shutoff (PSPS) potential to "WATCH" for Saturday – Monday in Sonoma County. "WATCH" is PG&E's medium level of potential for a PSPS. PG&E will attempt to notify affected customers by phone call, text and or email.  Learn more at PGE.com/weather or by calling PG&E at 1-877-660-6789CONNECT WITH PG&E ON TWITTEROPENS IN NEW WINDOW.CONNECT WITH PG&E ON FACEBOOKOPENS IN NEW WINDOW.. Get the most current PSPS city/county details.