To mitigate the impact of COVID-19 on Sonoma businesses, the City of Sonoma has been assisting  in temporarily adding or expanding their outside service options to accommodate COVID-19 related health standards.  This allows businesses to remain open and patrons to enjoy Sonoma's al fresco experiences while maintaining safe areas for pedestrians.
Businesses may provide new or expanded service facilities in the following locations:
On sidewalks or public on-street parking spaces (parklets) in front of the business;
Outdoor patios, nearby alleys, courtyards, alcoves, or neighboring property (with neighbor agreement)
In the Sonoma Plaza park seating area.
All new or expanded outdoor facilities must comply with applicable Sonoma County Public Health, Alcohol and Beverage Control (ABC), and California Department of Public Health (CDPH) requirements and regulations.
Businesses that are interested in expanding their facility should submit a Sonoma Al Fresco Pre-Application.  Once the application is reviewed by the City of Sonoma's Planning Department, a virtual meeting with the applicant will be scheduled to discuss the conditions that must be met in order to proceed.
Review supplemental information, applications, and permits below. For questions on the Sonoma Al Fresco Program please email planning@sonomacity.org or call 707-938-3681.
Pre-Application & General Conditions of Approval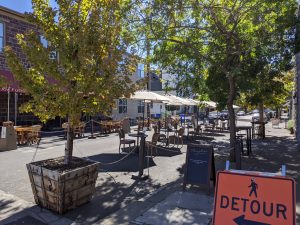 The first step for any business interested in expanding their facility is to fill out the Sonoma Al Fresco Pre-Application and review the Sonoma Valley Fire District's Reopening and Modified Business Practices Post Covid-19 General Conditions of Approval. This form takes the place of the Business Service Area Expansion Pre-Application and the Plaza Park Pre-Application. Within the pre-application, applicants will be asked to identify all the potential outdoor space(s) they are interested in expanding into. It is highly recommended that applicants select all options of interest.
Parklets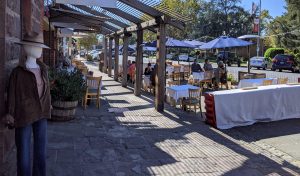 A parklet is a sidewalk extension that provides more space and amenities for people using the street. Parklets are installed on parking lanes and/or parking spaces. Parklets can extend out from the sidewalk to the width of the adjacent parking space.
Facilities provided on sidewalks or public on-street parking spaces require a Temporary Parklet and Sidewalk Encroachment Permit, which provides additional outdoor seating into the public right-of-way roadway and sidewalk while also ensuring a safe path for pedestrian traffic. The applicant is required to identify the parking spaces they are requesting to utilize and is only allowed to request the use of the parking spaces on the City street adjacent to the building they occupy.
Please read through the City of Sonoma Temporary Parklet and Sidewalk Extension Guide which clearly outlines the requirements and process to obtain approval from the City for a temporary parklet or sidewalk extension. If you would like to proceed, complete the Temporary Parklet and Sidewalk Extension Encroachment Permit, sign the terms and conditions which require your building owners authorization, and submit a site plan to watkins@sonomacity.org.  The City's Parklet Beautification Reimbursement Program is designed to support use of parklets in the public right-of-way by businesses affected by COVID-19 health regulations, and to support a vibrant downtown environment that benefits all businesses.
County Guidelines on Tents and Canopies for Outdoor Dining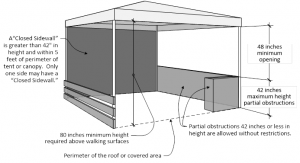 Sonoma County has issued guidelines for outdoor dining structures that meet both fire protection and COVID-19 safety requirements. The guidelines provide additional detail concerning, for example, partial walls, which give restaurateurs the ability to vary design options. Though only one full enclosed wall is allowed, partial walls within specific parameters are also permitted. Please see the County's ​press release​ and ​download the Guidelines for Temporary Tents, Canopies, and Membrane Structures for Outdoor Business Operations​, located on the Economic Development Board's ​Industry Specific Resources page​, for details. Please note that these and other restrictions, such as propane heaters and proximity to buildings, may require approval from local fire code officials.
Sonoma Plaza Park Seating Area
A 2020 Plaza Permit Application is required for applicants who wish to expand service to the Sonoma Plaza Park. The use of the park is limited to 11 am –9 pm, Thursday through Sunday. As this is a public park, the operator will be required to assume full responsibility for the cleanliness (including COVID-19 preventing disinfecting), garbage collection, safety, security and overall community impact of the space assigned to you. In addition, you will need to make your business' restrooms available to your customers. Use of the space will require working with Plaza grounds/maintenance staff, City staff, public safety officers, etc. to ensure that we minimize impacts on the park and public's ability to enjoy the historic community asset and its amenities.
County Public Health Guidance for Outdoor Dining
This document provides guidance for dine-in food facilities, including restaurants, tasting rooms, wineries, breweries and distilleries to support a safe environment for customers and staff as services are expanded for outdoor dining in Sonoma County. This document is not intended as a substitute for Health and Safety Code guidelines for safe food handling and should be incorporated into a facility's best practices for food safety.
Background
On Monday, May 18, 2020, Sonoma City Council adopted a resolution authorizing the City Manager to create and implement new re-opening and recovery measures through the issuance of Temporary Use Permits, Encroachment Permits, and/or Licensing Procedures to allow the City's businesses to expand their operating space utilizing public sidewalks, the Plaza, Grinstead amphitheater, public rights-of-way (including parking areas and roadways), their own property or neighboring properties with neighbor agreement, while respecting social distancing requirements.  The City Manager and delegated staff are authorized to waive fees associated with these action as described in City fee schedules for the duration of the COVID-19 pandemic. This action was done to provide additional outdoor space for business operation and physical distancing due to the COVID-19 pandemic.