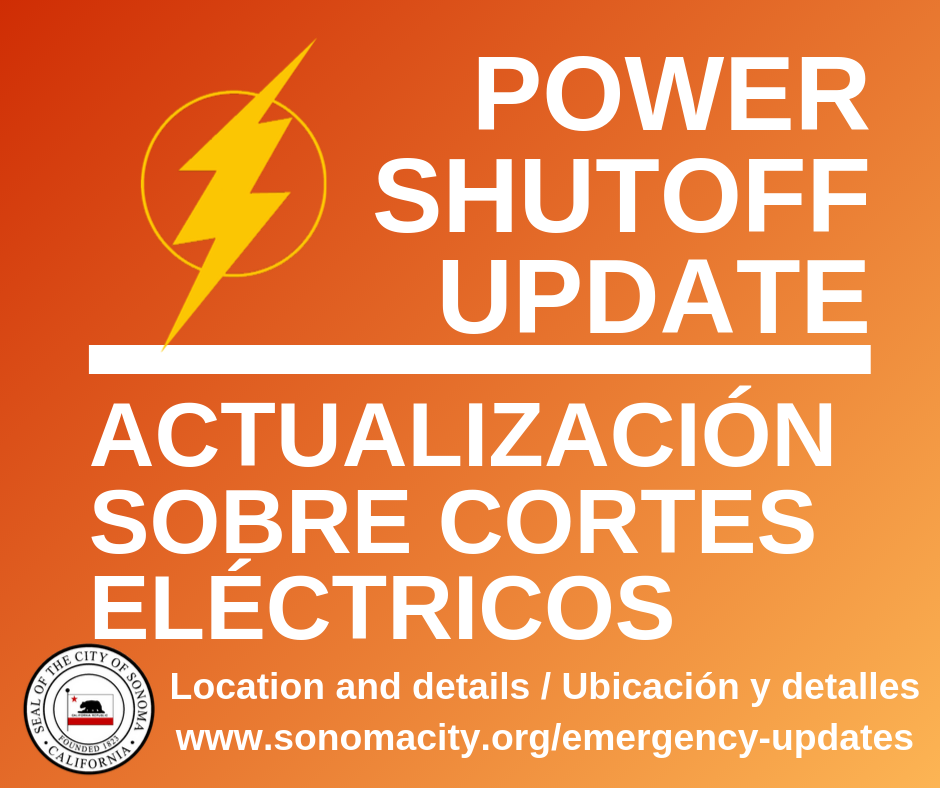 10/28/19, 10:00 AM – The Red Flag Warning and High Wind Advisory for Sonoma County ends at 11:00 AM today.  For updates on the Kincade Fire and current evacuation areas, go to https://socoemergency.org/.
PG&E has issued an "all clear" for the current Public Safety Power Shutoff (PSPS) event and are beginning inspections and re-energization of affected areas. For updates view the PG&E power restoration map  or call PG&E at 800-743-5002.
PG&E is currently monitoring a weather event projected to arrive Tuesday, October 29th through Wednesday, October 30th.  Sonoma County is currently under a Public Safety Power Shutoff (PSPS) "Watch" status for this developing weather event. Read more about this potential event on PG&E's website.
City updates:
A structure fire last night on the 600 block of Napa Road resulted in a power shutoff affecting approximately 1,800 customers in the City and County. The fire is out and PG&E is on scene to get power restored.
There are no road closures currently in the City.
City Hall and the Plaza Visitors Center are open today. The Sonoma Plaza Park remains CLOSED as City crews and contractors address safety issues from wind-damaged trees and downed branches. The park may be reopened in stages as work progresses.
The Sonoma Veterans Building is currently set up and on Standby status as an emergency shelter.  There is not a need for volunteers or donations at this time;  see our latest update for for more information. The current list of shelters can be found at: https://socoemergency.org/home/emergency/evacuation-centers/.
With the Sonoma Veterans Memorial Building on standby as a shelter, it will not be open as a Charging Center today. The PG&E Community Resource Center at Hanna Boys Center remains open today for charging devices from 8 AM – 8PM.