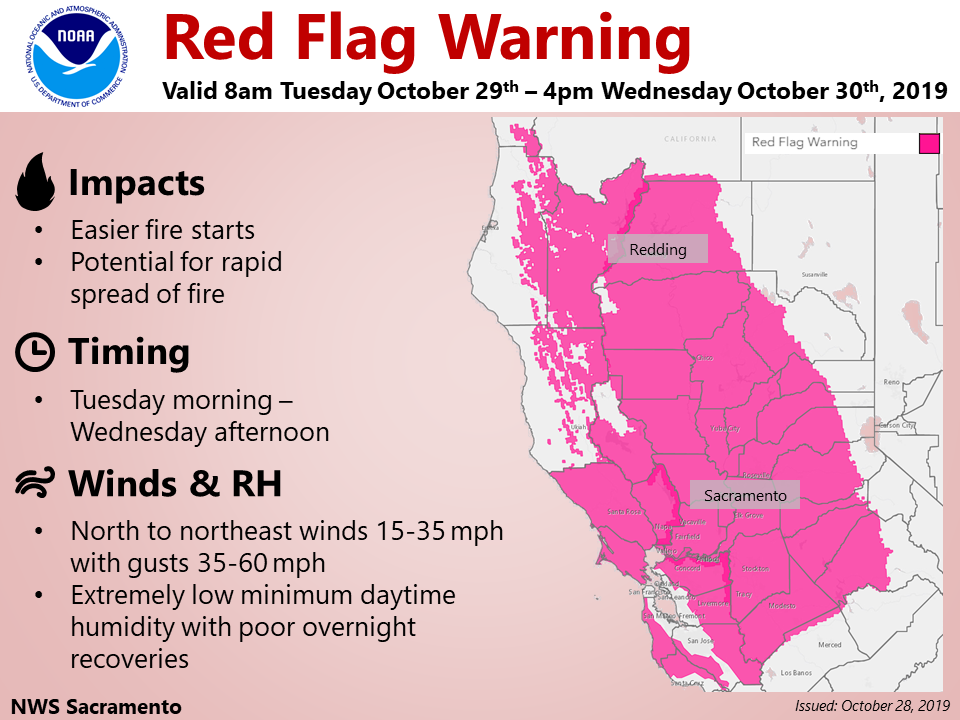 10/29/19 at 5 PM:  Sonoma Valley is under high fire danger conditions with a Red Flag Warning through Wednesday afternoon. Preventing any new fires from starting is of critical importance, as is the readiness of all community members to respond to conditions that can change quickly.  Please stay alert and prepared.
Areas of Sonoma Valley remain under a Public Safety Power Shutoff (PSPS).  Areas affected by the PSPS outages as of 5 PM are shown in purple on the PG&E outage map, with unplanned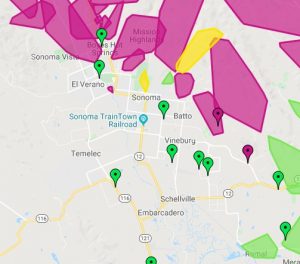 outages shown in yellow.  Additional outages may occur from high winds tonight. The Community Resource Center at Hanna Boys Center is open until 8 PM tonight for charging devices and will re-open at 8 AM tomorrow.  Residents are encouraged to review  tools and tips for communication during a power outage.
The Sonoma Veterans Building remains on "standby" status as one of several potential shelters that are ready to be activated by the County if needs and conditions warrant. Several evacuation zones in the County have been downgraded from Evacuation Order to Evacuation Warning status. While some shelters are full, as of this afternoon eleven shelters have capacity and several other facilities, including the Sonoma Vets Building, are ready on standby.  In addition to evacuation and shelter information, SoCoEmergency.org has the current incident map for the Kincade Fire.
Other local updates:
All schools in the Sonoma Valley Unified School District are closed for the rest of the week.
Sonoma Valley Library will be open regular hours this week, subject to power outage or staffing limitations.
Boys & Girls Club Maxwell Clubhouse location will be open the rest of the week with the following schedule: Wednesday, October 30th, 8am to 6pm, Thursday, October 31st, 8am to 5pm, Friday, November 1st, 8am to 6pm. There will be no meal service;  please send your child with breakfast, lunch, and a snack.  The Club is open for all youth ages six and up. Non-members must complete a registration form before attending, but no fees will be charged.
Sonoma Valley Hospital is fully operational for all services (emergency care, inpatient and outpatient services). SVH continues to monitor inside air quality; air scrubbers are in place and will be switched on when needed.
The Sonoma Valley Community Health Center is also open, and the Redwood Food Bank Produce Pantry will take place there as scheduled this Friday from 9am-10am.
The Sonoma Mission and Barracks are open, and the Vallejo Home will re-open when power is restored.
When driving, take your time and be alert. With schools closed there are lots of kids out and about. Some traffic signals may have power and some may be without. Treat signals without power as a 4-way stop.
It will be chilly tonight. Check in on neighbors in outage areas who may need assistance.