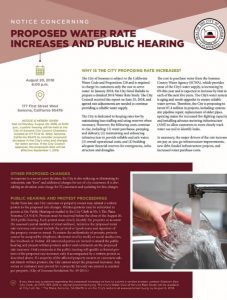 Notices concerning proposed water rate increases were sent to City water customers and property owners last week. The City of Sonoma is subject to the California Water Code and Proposition 218 and is required to charge its customers only the cost to serve water.
In January 2018, the City hired Raftelis to prepare a detailed 2018 Water Rate Study.  The City Council received the report on June 25, 2018, and agreed rate adjustments are needed to continue providing a reliable water supply.  To read the full notice concerning proposed water rate increases, public hearing information and frequently asked questions, download Water Rates Notice – Part 1 and Water Rates Notice – Part 2.
A public hearing will be held on August 20, 2018 at 6:00 p.m. in Council Chambers, 177 First Street West, Sonoma CA 95476 to consider proposed increases in the City's rates and charges for water service. If the City Council approves, the proposed rates will be effective September 1, 2018.
Learn more about the City of Sonoma Water Rate Study, see past news posts and related documents including a list of addresses in Zone 2 on the City's Water Rate Study page