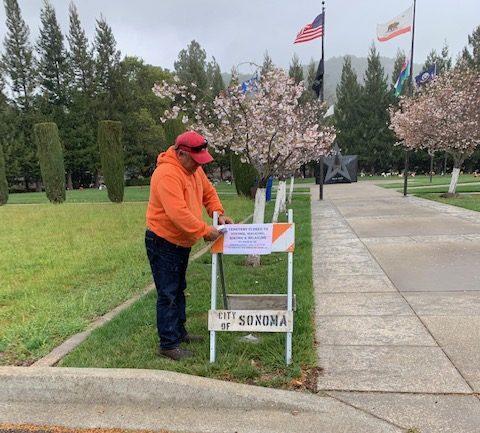 Per Sonoma County Interim Public Health Officer Order
Sonoma County's Interim Public Health officer has issued an order closing all parks in Sonoma County to further enforce the on-going shelter-in-place directive. Therefore, in compliance with this order and to prevent the spread of COVID-19, all parks and public recreation areas in Sonoma are closed effective at midnight on Monday, March 23 until further notice.
The closure includes the entire Sonoma Plaza, Depot Park, Field of Dreams, Sonoma Garden Park, Sonoma Overlook Trail, Montini Preserve, Maxwell Farms Regional Park, all neighborhood parks,  and all school recreation areas.  In all parks, this includes any restrooms, playgrounds, open lawn and picnic areas, and courts (i.e. tennis, basketball, bocce/petanque).
Paved multi-use pathways remain open except to bicycles.  City Staff will be posting signage at parks tomorrow morning.
Answers to frequently asked questions about the order can be found at SoCoEmergency.org.  Additional information regarding the City's emergency response and a copy of the order can be found at sonomacity.org.