Join the City of Sonoma for an Arbor Day Celebration, a day to plant, nurture and celebrate trees in the Sonoma Plaza on April 27, 2018.
Celebration Festivities Include: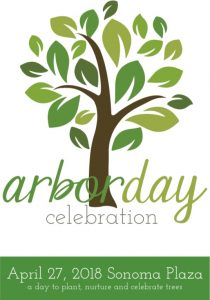 10:00am-11:00am, Scavenger Hunt
10:00am-Noon, Arts and Crafts with Artescape
11:00am-12:00, Arbor Day Program – Grinstead Amphitheater
12:00pm-12:15pm, Tree Planting
1:30pm, Mountain Cemetery Trees Hike – walk with amateur tree lover who has studied cemetery trees as well as past Sonoma characters Fred Allebach. Adults Only. Meet at the Overlook kiosk (198 1st Street W)
Great opportunity for school children to participate in the many fun activities designed to educate and inspire a stewardship of the environment.
Event held rain or shine.