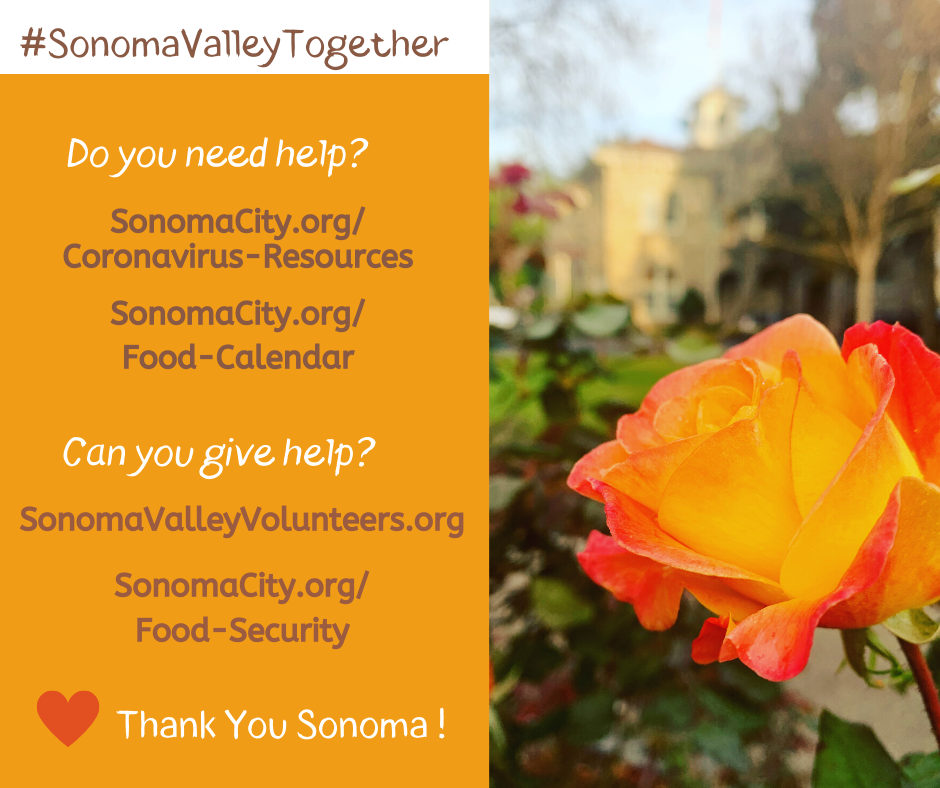 The following "Valley Forum" by Sonoma City Mayor Logan Harvey was published in the Friday, April 10th edition of the Sonoma Index-Tribune.
We are all feeling it now, aren't we?
This pandemic has upended our lives and shuttered our businesses. It's made the world a confusing place where we must cancel birthday parties, vacations, and wedding plans. We want out, we want a return to normalcy, but it seems that everyday restrictions increase, the parks close, masks go on, and shelter orders are extended. For some in our community, these orders seem draconian, to others, the orders don't go far enough to protect public health. The tension is rising, building, and coming out in unfortunate ways.
This weekend, I was disheartened and upset, but unfortunately not surprised, when the manager of a local grocery store called to say that one of his managers had been accosted by a patron for enforcing the County's shelter in place rules. This individual was clearly overwhelmed by the stress of our new reality and took their pain out on the very people who are keeping our community fed. These local heroes at our grocery stores have been given the impossible task of enforcing the State of California and Sonoma County Public Health Officer's orders to shelter in place. Denying bags from home and enforcing the 6-foot rule is not an invention meant to torture patrons, it is an attempt by an industry to fill a public health role they never asked for. These folks are working overtime on the front lines of a pandemic to keep our community healthy and fed.  Be kind to them and respect the rules they have put in place to protect themselves and the public.
These are unprecedented and frustrating times, and we are all feeling the same stresses and fears right now. My own household lost half of our family income when my wife's company informed her that she would be placed on a temporary leave of absence with no set return date. To my knowledge, our rent has gotten no less expensive, nor have our other bills.
But as this crisis continues, it is important to recognize that this situation is different than other emergencies we have faced. We are not running a sprint, but a marathon and we must approach it with that perspective.
In a marathon, it is important to conserve energy, and to find ways to occupy your mind in a healthy positive manner. You must find solutions to the discomfort in your legs by using mental tricks to redirect this feeling into something positive. In a marathon, you cannot push too hard early on or you will find yourself gasping for air in the final miles.
We must treat this crisis similarly. It is not like other crises where the source was visible and was sure to be vanquished within a week or two. The coronavirus is invisible, ever-present, and has staying power. We have hardened our community and retreated to our homes, and it is making a tangible difference. Together, we are flattening the curve and saving lives. But modeling by Sonoma County's Public Health Department shows us that to release these restrictions too soon risks a spike in infections that could further impact our community. This is because, while our community has done a fantastic job, other states and countries have not. With global commerce and travel, it is likely that if the shelter in place order is lifted too quickly, new infections can be brought from outside our community. Though there has been no official word, be prepared for shelter in place orders to be extended further than May 3.
So, what to do?
First, prepare yourself financially. If you've been furloughed or are experiencing any financial difficulty, first ensure that you've applied for unemployment and all available benefits. If you run a small business, be sure to contact the Chamber of Commerce to get information about new COVID19 programs for small businesses. Do not hesitate to reach out for help. Food aid is flowing to our valley. Don't wait, don't hold off because you haven't needed this kind of help in the past.  Go and get the food that you need. (The City's Emergency Operations Center is helping coordinate food for the entire Sonoma Valley in partnership with the Sonoma County Emergency Operations Center, SVUSD, La Luz, FISH, Vintage House, SOS, and Redwood Empire Food Bank. You can find a calendar for food assistance on the City's website at www.sonomacity.org/food-calendar/. Reach out for rental assistance, you can find that information here: 211sonoma.org/.
Second, go outside at least once a day. Just because the County of Sonoma's Public Health Department closed our parks, it does not mean you must spend all of your time inside. Streets and roads are still open for walking and there are many beautiful county roads with light traffic that are wonderful for a walk or a bike ride. Keep social distance, but do not deny yourself a chance to safely get out of your house for a bit. Getting some fresh air will do wonders for your mental health.
Third, if you are able, volunteer or donate. Sonoma Valley's nonprofits have seen a major uptick in the need for their services without a comparable increase in funding. This increase in need has been coupled with a decrease in the number of volunteers as many from the Valley's dedicated, talented and experienced volunteer base have been forced to step back due to high-risk factors. Filling these volunteer slots has been a wonderful way for me personally to get out of the house and help our community.  Sustainable Sonoma and Sonoma Ecology Center have made a wonderful website, www.sonomavalleyvolunteers.org, that makes it easy to find a local nonprofit to volunteer with. If you have means, but cannot volunteer, please consider donating to one of our local charities for food or rental assistance. La Luz and Fish's rental assistance programs have been severely taxed and Redwood Empire Food Bank has seen a 5X increase in food need and is having to greatly expand operations. You can find links to donate at www.sonomacity.org/food-security.
Fourth, please take care of your emotional health and these stresses that we are all feeling.  Just like with food aid, don't be afraid to reach out and ask for help.  You can contact the National Disaster Distress Helpline (English and Spanish) Toll-Free: 1 (800) 985-5990 or Text "TalkWithUs" to 66746; español: "Hablanos" al 66746 TTY (for hard of hearing): 1 (800) 846-8517.  There is also local help at the Sonoma County 24-Hour Crisis Stabilization Unit: (707) 576-8181.
Finally, I want to thank you for following the orders and staying home to keep our community safe.  I know it is tough, but I also know that Sonoma Valley is up to the task.  As we move forward, let's continue to be kind to each other. Although tensions can flare, there are so many acts of kindness happening throughout our community. People are shopping for their neighbors, picking up medicine, volunteering at food banks, and putting bears in their windows for kids to find. Sonomans are finding creative ways to connect with family, neighbors, and old friends.  We are all burdened by the stress of this crisis in different ways, no one is immune. So be generous, be kind, we're all in this together and together is the way we'll all make it through.
—————————————–
View and Download a comprehensive Sonoma Valley Community Resource Guide in English and Spanish.