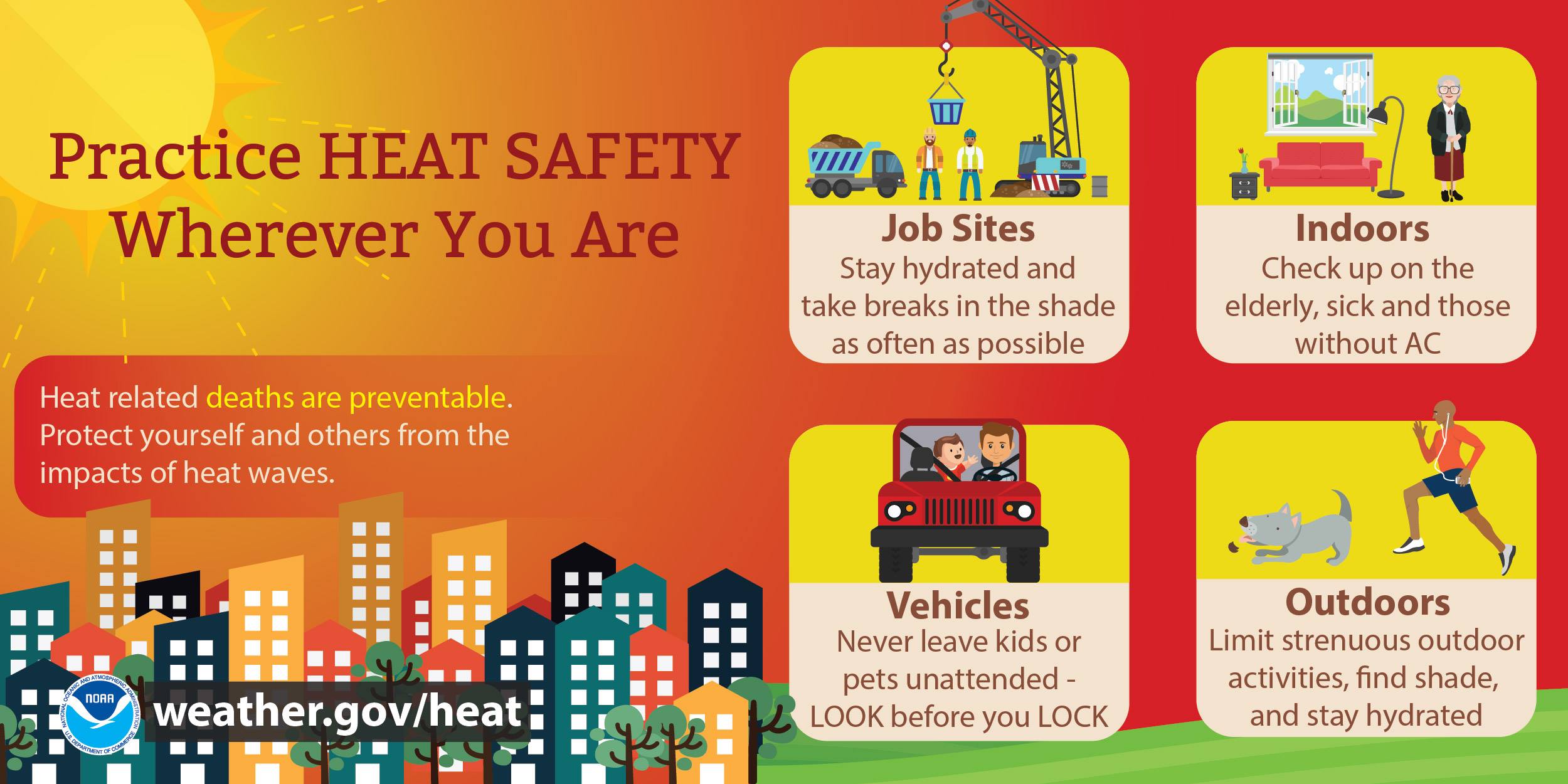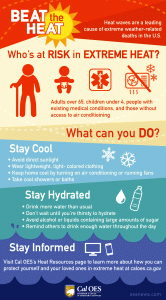 Summer is officially here and the temperatures are going up. It's important to consider the effects of warmer temperatures and to take appropriate precautions to protect your health and safety during heat events. By following a few important steps, you can keep yourself, your loved ones, neighbors, and pets comfortable and safe during a heatwave:
Reduce outdoor activities in the afternoon,
Wear light, loose-fitting clothing, drink plenty of water,
Apply sunscreen regularly,
Know where shade is available,
Don't leave pets and children in cars, and
Check-in on those most susceptible to heat impacts.
On occasion as a result of predictions of high heat and energy demand, the California Independent System Operator (ISO) may issue a
statewide Flex Alert
during heat events and call for voluntary electricity conservation for a certain amount of time. Visit 
CAISO's web page
for information about California's electric grid and to view usage and to sign up for Flex Alerts. If a Flex Alert is called, the
best ways to conserve energy are:
Raise the thermostat: set to 78 degrees when at home, health permitting. Turn it up to 85 degrees or off when not at home.
Use a ceiling fan: this will allow you to raise the thermostat about 4 degrees to save on cooling costs with no reduction to comfort.
Turn off fans and lights when you leave a room.
Cover windows. Use shade coverings and awnings so the A/C won't have to work as hard.
Avoid using the oven, instead, cook on the stove, use a microwave, or grill outside.
Limit the opening of your refrigerator. The average fridge is opened 33 times a day – how low can you go?
Charge electric cars after 9 or 10 pm.
Find more tips, resources and information about how you can better prepare for excessive heat: