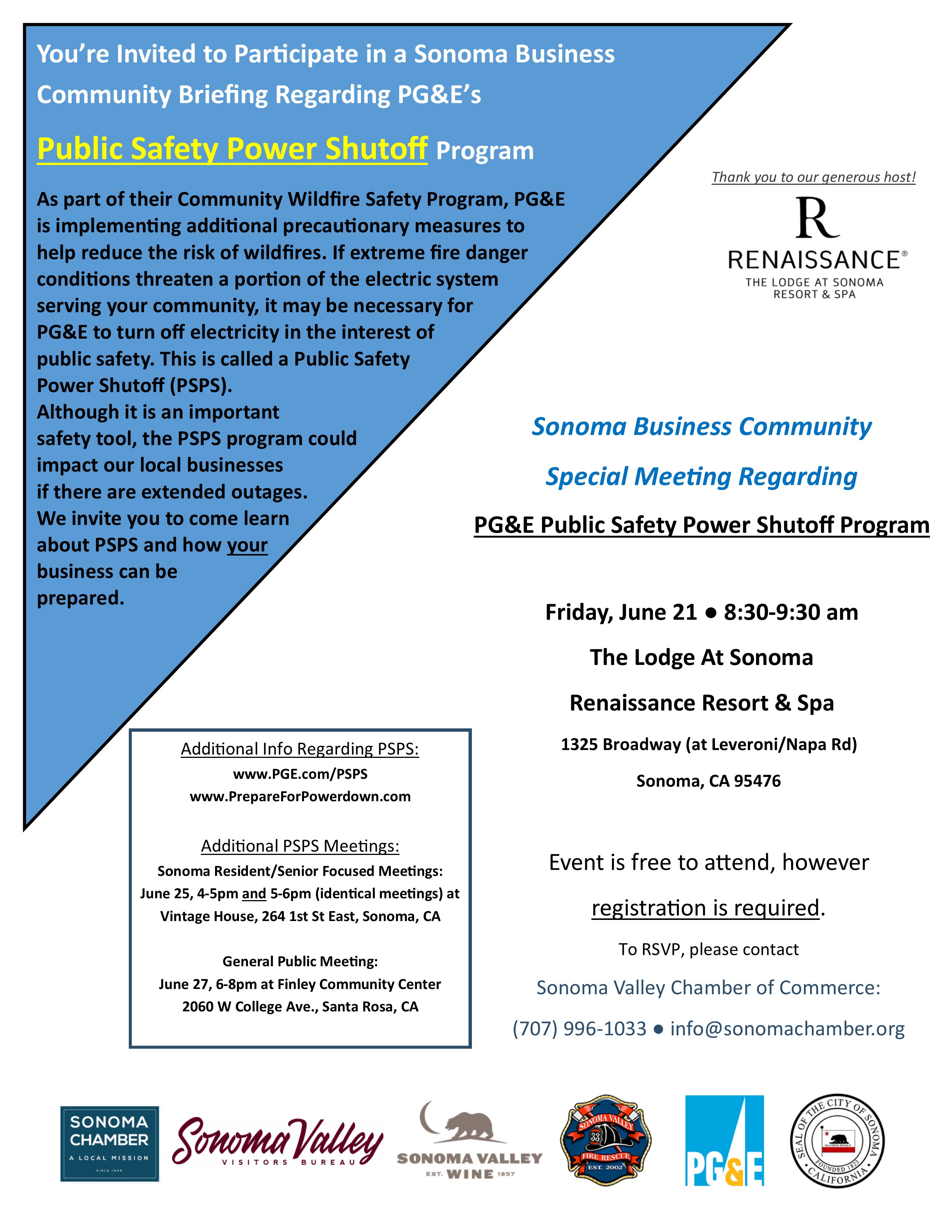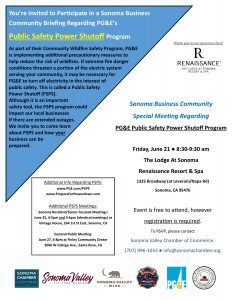 You're invited to Participate in a Sonoma Business Community Briefing Regarding PG&E's Public Safety Power Shutoff Program.
Friday, June 21st, 8:30 a.m. – 9:30 a.m.
The Lodge at Sonoma Renaissance Resort & Spa, 1325 Broadway, Sonoma CA 95476
Event is free to attend, however, registration is required. To RSVP, please contact the Sonoma Valley Chamber of Commerce at (707) 996-1033 or email info@sonomachamber.org
As part of their Community Wildfire Safety Program, PG&E is implementing additional precautionary measures to help reduce the risk of wildfires.  If extreme fire danger conditions threaten a portion of the electric system serving your community, it will be necessary for PG&E to turn off electricity in the interest of public safety. This is called a Public Safety Power Shutoff (PSPS). Although it is an important safety tool, the PSPS program could impact our local businesses if there are extended outages. We invite you to come learn about PSPS and how your business can be prepared.
Additional Info Regarding PSPS:
www.pge.com/psps
www.prepareforpowerdown.com
Additional Community PSPS Meetings:
Sonoma Resident/Senior Focused Meetings:
June 25th, 4:00 p.m. – 5:00 p.m. AND 5:00 p.m. – 6:00 p.m. (identical meetings)
Vintage House, 264 First St E, Sonoma CA
General Public Meeting
June 27th, 6:00 p.m. – 8:00 p.m.
Finley Community Center, 2060 W College Ave., Santa Rosa, CA