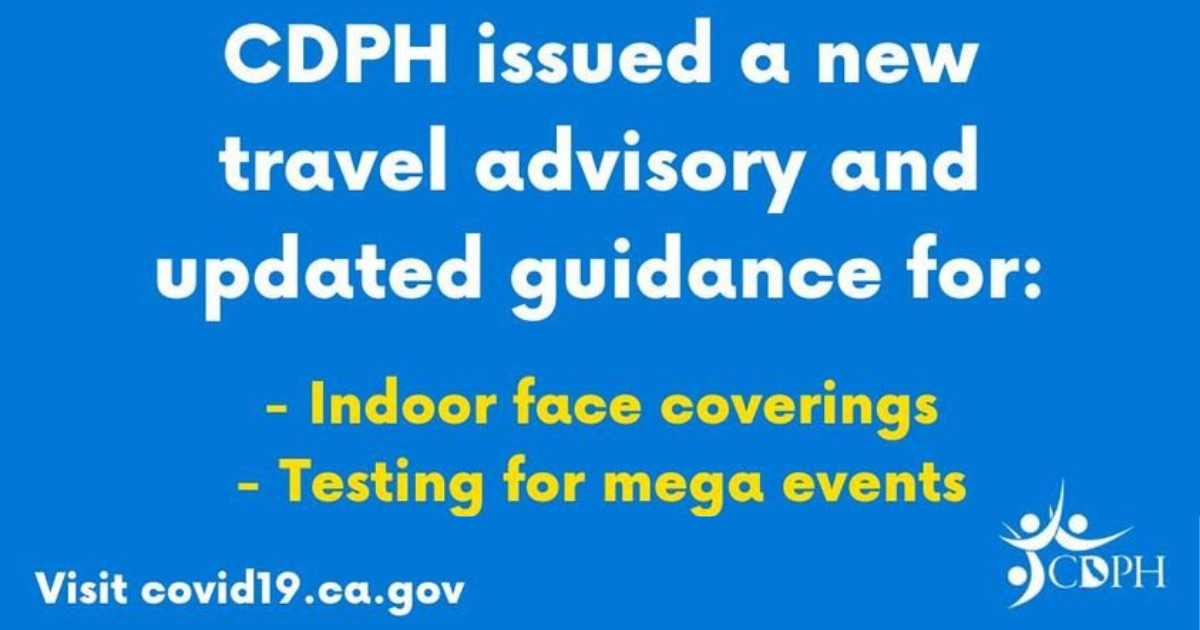 (En Español abajo)
The California Department of Public Health has issued a new travel advisory and updated COVID-19 guidance for face coverings and mega-events.
Masking is required for all public indoor settings, regardless of vaccination status, beginning Dec. 15.
Attendees of mega-events must show proof of vaccination before attending an event or a negative antigen COVID-19 test within one day of the event or a negative PCR test within two days.
Travelers arriving in or returning to California from other states or countries should test 3-5 days upon arrival.
The California Department of Public Health statement indicates, "Since Thanksgiving, the statewide seven-day average case rate has increased by almost half (47%) and hospitalizations have increased by 14%. In response to the increase in cases and hospitalizations, and to slow the spread of both Delta and the highly transmissible Omicron variant, CDPH has issued updated guidance to curb the spread of COVID-19 and its variants."
To find a vaccination clinic near you, visit: https://socoemergency.org/…/vaccine-information/clinics/
~
California ha emitido una nueva recomendación para los viajes y un lineamiento actualizado por la COVID-19, respecto al uso del cubre bocas y los mega-eventos.
A partir del 15 de diciembre se requiere el uso del cubre bocas para todos los lugares públicos en interiores, sin importar el estatus de vacunación.
Los asistentes a mega-eventos deben de mostrar su prueba de vacunación antes de entrar al evento o una prueba negativa del antígeno de la COVID-19 con fecha del mismo día del evento o una prueba PCR negativa con antigüedad máxima de 2 días.
Los viajeros que lleguen o regresen a California, provenientes de otros estados o países, deberán de hacerse una prueba de 3 a 5 días antes de su llegada.
La declaración del Departamento de Salud Pública de California dice, "Desde el Día de Gracias, la tasa estatal del promedio de casos en siete días se ha incrementado casi la mitad (47%) y las hospitalizaciones se han incrementado un 14%. En respuesta al incremento en los casos y las hospitalizaciones, y para reducir la propagación de la variante Delta y de la variante Omicron, el CDPH ha emitido lineamientos actualizados para reducir los contagios de virus que causa la COVID-19 y de sus variantes".
Para encontrar una clínica de vacunación cerca de usted, visite: https://socoemergency.org/…/novel…/vacuna/clinicas/