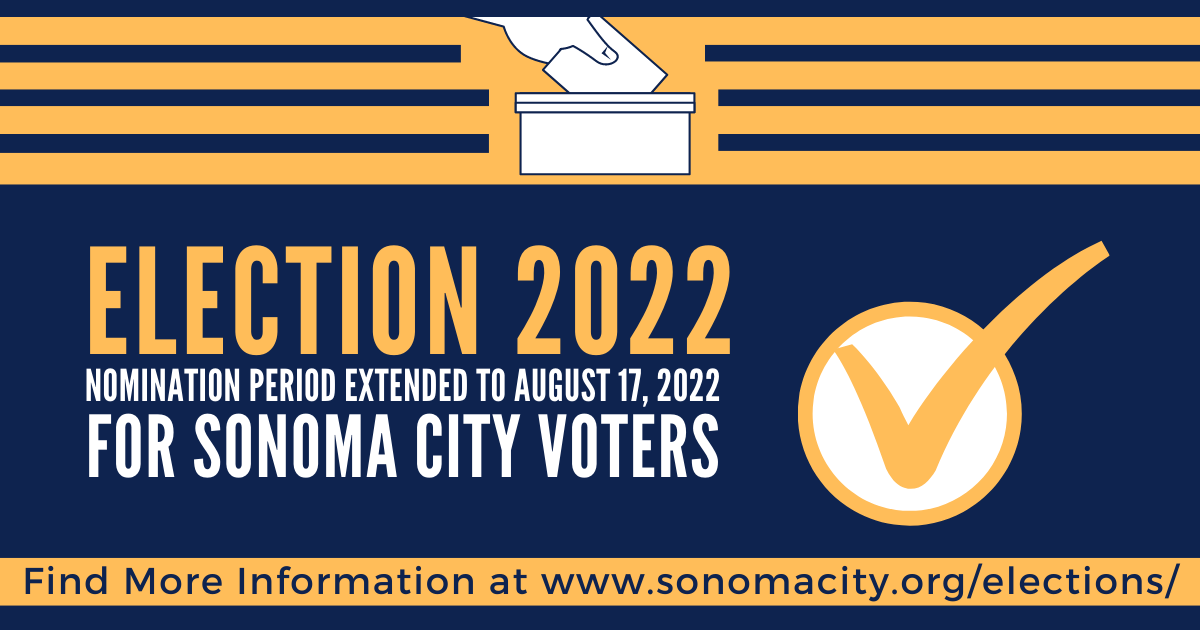 The filing period for non-incumbents for the office of Council Member in the City of Sonoma has been extended. Interested residents must file nomination papers for the General Municipal Election by the new deadline, August 17, 2022, during normal business hours (8:00 a.m. to 5:00 p.m. – Closed 12:00 – 1:00 pm).
In accordance with Elections Code 10225, if an incumbent does not file for re-election by the end of the nomination period, the nomination period is extended by 5 days. The nomination period is only extended for non-incumbent candidates. Because all incumbents failed to file nomination papers the filing period was extended beyond the initial Aug. 12, 2022, deadline. The filing period for incumbents is now closed.
Any City of Sonoma resident aged 18 or older who is registered to vote, eligible to take the oath of office, and unless otherwise explicitly provided, qualified to vote for the office, can file nomination papers.
To file, visit the City Clerk's Office, Sonoma City Hall, No. 1 The Plaza. For more information, contact the City Clerk's Office at 707-933-2216 or rbarr@sonomacity.org.
The General Municipal Election is Nov. 8. for election information please visit the City Clerk's Election Page.