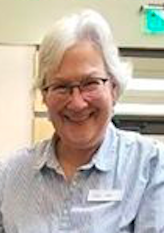 Save the date! Clare O'Brien Day is March 2, 2020. City Council will recognize Ms. Clare, the "incomparable" children's librarian at the Sonoma Valley Library, and declare March 2, 2020 "Clare O'Brien Day" at their March 2nd meeting as part of the "Celebrate Sonoma" program.
"Celebrate Sonoma" is a program that started in 2019 to recognize people that make up the fabric of Sonoma.  Once a month, a community member is recognized at a City Council meeting with a presentation of a city recognition certificate honoring them by dedicating a "day" in their honor. Learn more about the selection and recognition process.
Community members are welcome to attend the meeting on Monday, March 2nd.  The meeting will be held at City Council Chambers at 177 First St. West at 6:00 p.m. and can also be viewed on channel 27 or on the City's
CivicWeb portal. 
If you would like to receive future meeting notifications via email, please 
subscribe
 on our CivicWeb portal.