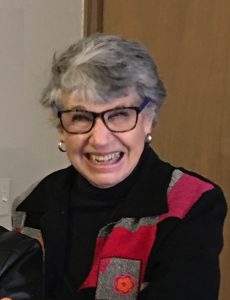 The next person to be honored as part of the "Celebrate Sonoma" program will be Norah Collins who, in 2012, began the "prayer shawl ministry" at Trinity Episcopal Church where Mrs. Collins leads a group of women who knit or crochet shawls and blankets for people who are ill or otherwise suffering.  The completed shawls are blessed by the priest (pictured below) and packaged for distribution along with a note and a prayer for the person's well being. Since its inception, the prayer shall ministry has given out over 200 shawls. They are free, no questions asked.  Norah and her fellow stitchers pay for and provide all their own materials.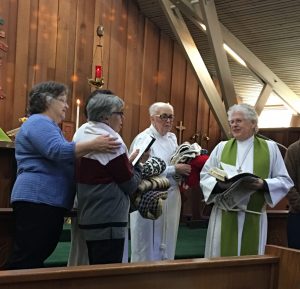 City Council will recognize Mrs. Collins and declare September 9, 2020 "Norah Collins Day" at their Wednesday meeting.
"Celebrate Sonoma" is a program that started in 2019 to recognize people that make up the fabric of Sonoma.  A community member is recognized at a City Council meeting with a presentation of a city recognition certificate honoring them by dedicating a "day" in their honor. Learn more about the selection and recognition process.