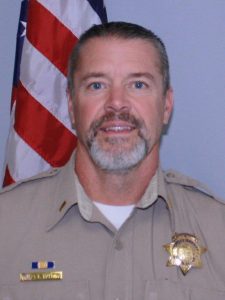 The City of Sonoma announced today the selection of Lieutenant Brandon Cutting as the City's new Chief of Police, effective December 6, 2022. An 18-year veteran of the Sonoma County Sherriff's Department, Brandon Cutting was the top pick following an internal recruitment process. The Sheriff's Office has provided contract law enforcement services to City of Sonoma since 2004.
"After careful consideration, I am pleased to announce the appointment of Brandon Cutting as City of Sonoma's new Chief of Police," said Sue Casey, Interim City Manager of Sonoma. "Brandon's commitment to the department, extensive police experience in a range of leadership roles and commitment to learning and working with the community to identify issues and solutions for continued safety in Sonoma are just a few of the many attributes that impressed me and the interview panels about Brandon." Casey added, "I want to especially thank Orlando Rodriguez for his outstanding service to the department and the community in his role as Police Chief the past 4 years and I wish him well in the next chapter of his career and eventual retirement."
Cutting was born and raised in the Midwest, moving to California in 1990 as an enlisted member of the US Coast Guard. He was transferred to Sonoma County in early 1993 where he attended corpsman school, remaining at the training center until he was honorably discharged from the Coast Guard in 1998. In 2005, Cutting became a Deputy Sheriff with Sonoma County Sheriff's Office.  His exposure as a Deputy led him through the patrol division, street gang enforcement, violent crime investigations, and a collateral assignment to the Sheriff's SWAT team for nearly 16 years of his nearly 18 years of service with the Sherriff's Office. As a Sergeant and Lieutenant, Cutting supervised those same units and spent two years working in the Professional Standards unit as a manager of internal affairs, the IOLERO liaison, use of force manager, and policy manager.
"My experiences at the Sheriff's Office have taught me a great deal about the communities in Sonoma County, their law enforcement needs, and the department's ability to meet and exceed those," said Brandon Cutting, City of Sonoma's new police chief. "The City of Sonoma is an idyllic community with amazing people. Being able to apply my knowledge and experiences in the leadership of your police department is an honor that I don't take lightly."
Cutting has a personal connection to the City of Sonoma, sharing, "The City of Sonoma is dear to me as this is where I met my wife in late 1993. Falling in love with my wife and Sonoma County kept me here after the Coast Guard, making Sonoma County my home. The beauty of your community is visible; the safety adds to that, and it is my position that your police department needs to provide a firm and compassionate level of policing to be sure the safety remains as perfect as the visible surroundings."
Cutting has completed a long list of training and certifications from the Force Science Institute Third Degree Communications, The Academy South Bay Regional Safety Training Consortium, Santa Rosa Junior College Public Safety Training Center, the California Association of Tactical Officers, and others.
Cutting and his wife live in Sonoma County and I have three boys, only the youngest (17 a senior this year) still is at home. Their middle son is a Correctional Deputy at the Sonoma County Sheriff's office and is going to be attending the January law enforcement academy as a Deputy Sheriff Trainee. The eldest Is a sales rep for a San Francisco brewery. When not working, Cutting mostly spent paddling a surfski on a nearby lake and hiking with hos family and 2-year-old Bullador.
For more information about the City of Sonoma Police Department visit www.sonomacity.org/departments/police-department/