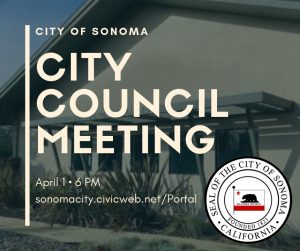 A regular meeting of Sonoma City Council will be held on Monday, April 1  at 6:00 pm. View the full agenda and staff reports including presentations, items on the consent calendar including the second reading for the Tasting Room Ordinance on our CivicWeb Portal. Items to be considered on the regular schedule by City Council are:
Sonoma Housing Element 2018 Annual Progress Report
Limit or Ban the Application of Glyphosate-Based Herbicides on City Property
Installation of Two Water Bottle Filling Stations with Drinking Fountains in the Plaza
Financial Oversight and Policies Council Financial Fiduciary Responsibilities, and Monthly Reporting Requirements
Nominations for Appointment to the ABAG MTC Housing Legislative Working Group
The meeting will be held at City Council Chambers at 177 First St. West and can also be viewed on channel 27 or on the City's CivicWeb portal. If you would like to receive future meeting notifications via email, please subscribe on our CivicWeb portal.