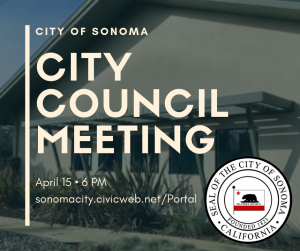 A regular meeting of Sonoma City Council will be held on Monday, April 15  at 6:00 pm. View the full agenda and staff reports including this month's "Celebrate Sonoma" presentation to Robert Wilson and items on the consent calendar on our CivicWeb Portal. Items to be considered on the regular schedule by City Council are:
Study Session on Commercial Cannabis Regulatory Ordinance
Presentation regarding the Sonoma Valley Aquifer Storage and Recovery Pilot Test
City's Contract with Valley of the Moon Certified Farmers' Market (VOMCFM) for Operation of the Tuesday Night Farmers' Market
Update on FY 2018/19 Budget to Actuals and Mid-Year Budget Adjustments
Quarterly City Council Agenda Plan for April – June 2019
The meeting will be held at City Council Chambers at 177 First St. West and can also be viewed on channel 27 or on the City's CivicWeb portal. If you would like to receive future meeting notifications via email, please subscribe on our CivicWeb portal.