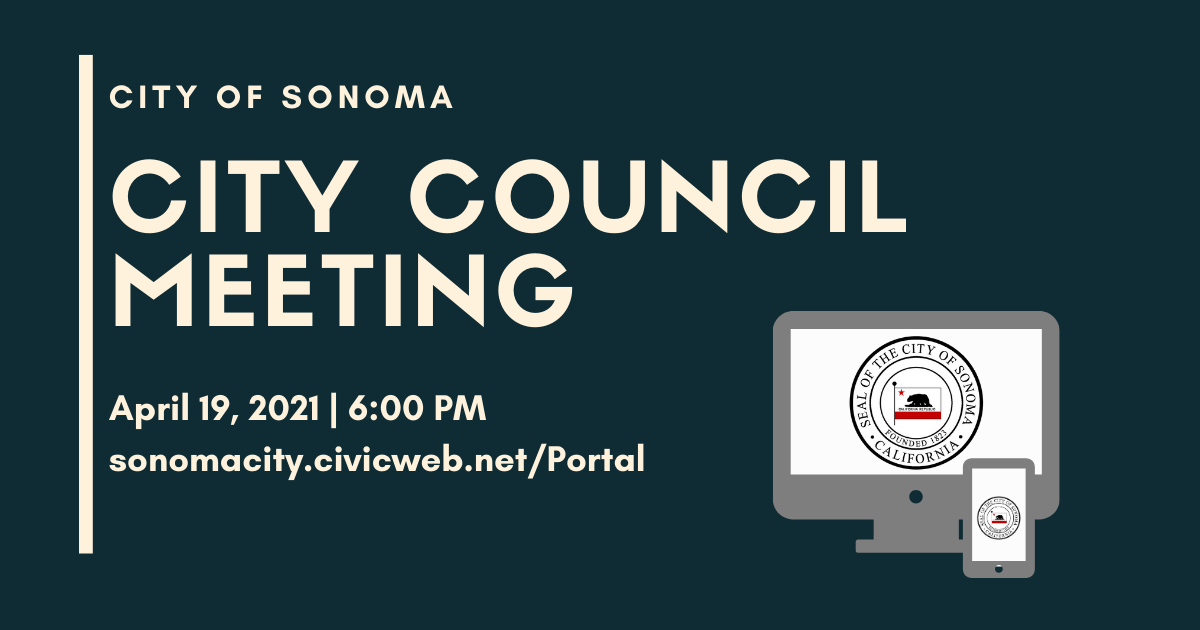 A regular meeting of the Sonoma City Council will be held on Monday, April 19th at 6:00 pm. View the full agenda to view items on the consent calendar including an ordinance to allow a second storefront commercial cannabis business and an ordinance to prohibit the use and sale of products containing polystyrene foam on our CivicWeb Portal. The items to be considered on the regular calendar are:
Request from the Sonoma Valley Museum of Art to Place Two Sculptures by Jun Kaneko On the Historic Front Lawn in Front of City Hall
Discussion and Direction on Economic Development Activities (including the City of Sonoma's Al Fresco Dining/Parklet program) during Upcoming Phases of the COVID-19 Pandemic
Resolution Establishing Appeal Fees for Land Use Planning Applications and Permits
Make Appointments to the City of Sonoma Planning Commission
We want to hear from you!
The public is encouraged to submit comments by e-mail* at publiccomment@sonomacity.org or by attending the virtual meeting on April 19 th and speaking during the public comment period for the agenda item. Find out how to participate in virtual meetings here.
Keep In Touch!
To receive future Sonoma City Council meeting notifications via email, please subscribe on our CivicWeb portal.
* Per the City's standard practice, any comments received prior to the commencement of the meeting will be uploaded to the public correspondence folder on the City's CivicWeb Portal and available for review by the public and the Committee. It will not be read during the meeting.