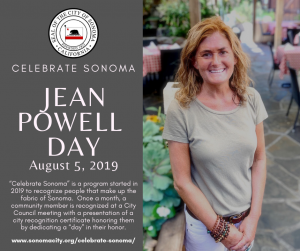 A regular meeting of Sonoma City Council will be held on Monday, August 5th at 6:00 pm. View the full agenda and staff reports including a presentation to Sonoma Raceway on their 50th Anniversary, "Celebrate Sonoma" presentation of a certificate of recognition to Jean Powell and items on the consent calendar on our CivicWeb Portal. Items to be considered on the regular schedule include:
 "Housing Our Community" 2019 Town Hall Series Report
Designation of the City of Sonoma Voting Delegate for the 2019 League of California Cities Annual Conference
Request to Schedule a Council Discussion by Council Member David Cook Regarding Allowing the Ting Memorial to Install Recognition Bricks to Support Fundraising Efforts
Schedule a Council Discussion by Council Member Rachel Hundley to Bring Forward a Council Resolution Related to Child Refugee Detention Camps
The meeting will be held at City Council Chambers at 177 First St. West and can also be viewed on channel 27 or on the City's CivicWeb portal. If you would like to receive future meeting notifications via email, please subscribe on our CivicWeb portal.