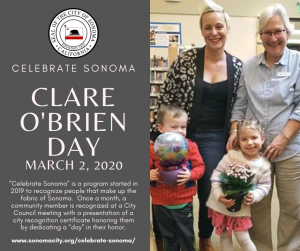 A regular meeting of Sonoma City Council will be held on Monday, March 2nd at 6:00 pm. View the full agenda and staff reports including the "Celebrate Sonoma" presentation of a certificate of recognition to Clare O'Brien, public hearing items and items on the consent calendar on our CivicWeb Portal. Items to be considered on the regular schedule include:
Continued Public Art Partnership with Sonoma Valley Museum of Art for a Temporary Art Installation at Sonoma's Plaza and Depot Park, from Mid-May to Mid-October 2020
Broadway (SR 12) Restriping Options for Potential Request to Caltrans for Consideration in 2020-2021 Paving and Restriping Project
(1) Additional Security, Enforcement and Maintenance near the Haven Homelessness Facility and the Field of Dreams and (2) Budget adjustment for Security/Oversight, Parking Lot Maintenance, Signage and Other Related Items for the Haven Homeless Services, Field of Dreams and the Shared Parking Lot
The meeting will be held at City Council Chambers at 177 First St. West and can also be viewed on channel 27 or on the City's CivicWeb portal. If you would like to receive future meeting notifications via email, please subscribe on our CivicWeb portal.