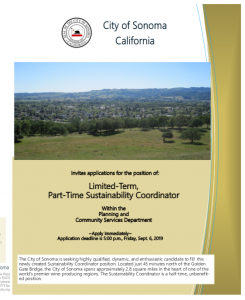 Immediate opening for a Limited-Term, Part-Time Sustainability Coordinator ($34.03-$41.37 per hour). Performs professional level work in the field of climate change and sustainability. The focus of the Sustainability Coordinator is threefold:
City of Sonoma Climate Change Action Plan;
Waste Minimization/Recycling; and,
Electric Vehicle Charging Stations.
The Sustainability Coordinator receives general direction from the Planning and Community Services Director and the Executive Management Team regarding regional and community initiatives. Provides staff support to the Community Services and Environment Commission. May provide direction to lower-level staff, volunteers, and interns.
In addition, the Sustainability Coordinator will develop public outreach strategies in support of local and regional energy efficiency and greenhouse gas reduction efforts; and, promote, provide direction, and assist internal departments, residents, business community groups and the public in the development and implementation of sustainability efforts.
The application filing deadline is Friday, Sept. 6, 2019. For more detailed information on the position, please view the  Limited-Term, Part-Time Sustainability Coordinator Brochure. City application required and available to download, at the City of Sonoma, No. 1 The Plaza, Sonoma, CA 95476, or by calling 707-938-3681.
To apply for this job email your details to humanresources@sonomacity.org