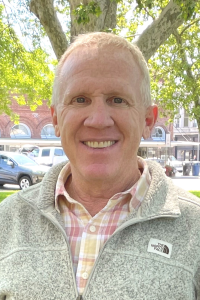 The City of Sonoma (City) is pleased to announce the hiring of Mike Berger as the new Director of Public Works. Mr. Berger, who started April 18th, brings more than 30 years of civil engineering experience as a designer, contractor, construction manager and operations manager.  Mike most recently worked for the City of Napa Department of Public Works where he started as the senior civil engineer running the City's construction division and more recently was the operations manager overseeing the fleet, facilities, electrical, concrete, paving and signs/striping work groups.
Prior to joining the City of Napa, Mike worked for Parsons Brinckerhoff (now WSP) for 16 years as a construction manager on numerous projects including the Yerba Buena Island on and off-ramps to the SF/Oakland Bay Bridge and the State Route 4/Loveridge Road Interchange.  His prior work experience includes two summer internships at Mare Island Naval Shipyard, working as a bridge engineer for Imbsen and Associates (now TRC) and as a project engineer for Mowat Construction Company, a heavy highway construction contractor.
Mike has been a registered Professional Civil Engineer since 1995.  He is an active member of the American Public Works Association (APWA) and the Design Build Institute of America.  While at Parsons Brinckerhoff and the City of Napa some of Mike's projects won national and state awards including the APWA Historical Restoration/Earthquake Damage Repair of the Goodman Library (2018) and two California Transportation Foundation awards for the Napa Vine Trail Oak Knoll Segment Pedestrian/Bicycle Path (2017) and the I-80 Yerba Buena Island Westbound Ramps Interchange (2017).
Mike grew up in Sonoma and still has family living in the Valley.  After attending Santa Rosa Junior College, he transferred to the University of California at Davis and earned his Bachelor of Science degree in Civil Engineering.  He currently lives in Napa with his wife Rosie and their two children, ages 17 and 19.  On the weekends Mike enjoys kayaking, cycling, fishing or just spending time with his family and friends.
Regarding his appointment as the Director of Public Works for the City, Mike expressed that he is very excited about his return to Sonoma, "Having grown up in Sonoma I already have a deep appreciation for the City, its history and citizens.  I'm very excited about applying my diverse skills and experience in municipal public works, project management, and civil engineering to a community that has always been very dear to me."
The City of Sonoma Public Works Department has a budget of over $ 10 million dollars and 20 full-time and 2 part-time employees, who operate, maintain, and upgrade the City of Sonoma's water and transportation systems, parks, and cemeteries.