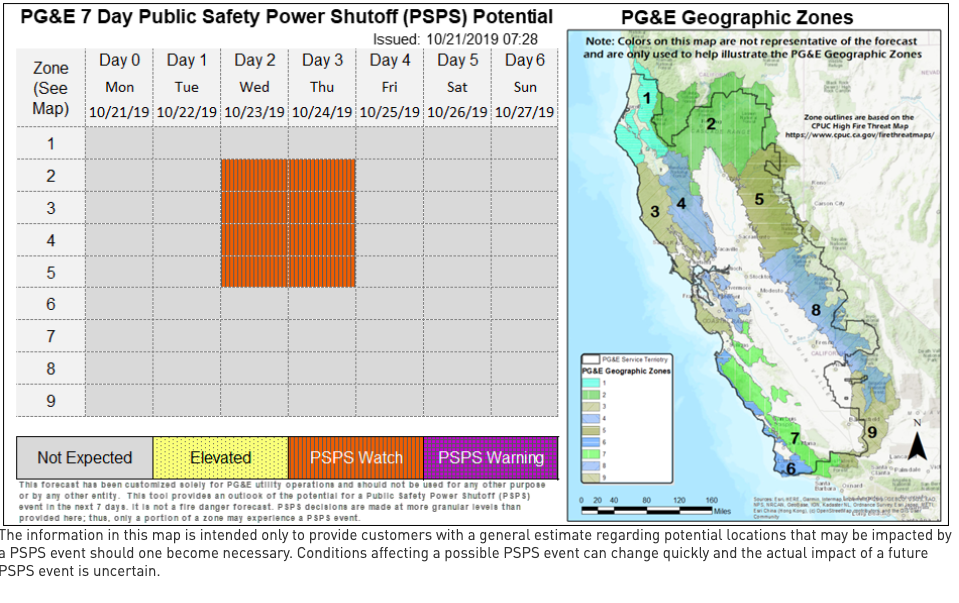 The City of Sonoma is preparing to respond to the impacts of a possible power shutoff conducted by PG&E. The agency informed City and County officials that Sonoma County is under a Public Safety Power Shutoff  (PSPS) "Watch," and current weather conditions may lead to a de-energization event beginning tomorrow, Wednesday, October 23, 2019.
PG&E estimates that 33,613 customers in Sonoma County could lose power.  The areas anticipated to be affected by the potential shutdowns include parts of the City of Sonoma and Sonoma Valley.
PG&E is expected to make a final determination whether to de-energize tomorrow morning.
If PG&E does perform a PSPS, the de-energization sequence is expected to begin at 3:00 PM  on Wednesday, October 23rd. Power restoration is expected to begin at Noon on Thursday, October 24th.
The City of Sonoma is preparing to activate the Emergency Operations Center and may open a local Charging Center depending on the final scope of the PG&E Power Shutoff.
If there is a PSPS event, PG&E has committed to opening a Community Resource Center at Hanna Boys Center (17000 Arnold Dr., Sonoma) on Thursday, October 24th from 8:00 AM – 6:00 PM.
Sonoma Valley Unified School District (SVUSD) requests that parents, students, and staff prepare as if all campuses will be open.  If SVUSD does not have power on Thursday or Friday morning, they will decide at 6:00 AM if school is canceled.
PG&E has advised that the most accurate tool to find out if a particular address will be impacted by the potential power shutoff is their "Potential PSPS Address Lookup Tool" on their website.
The City wants to remind residents that the potential power shutoff coincides with a Red Flag Warning issued by the US National Weather Service beginning Wednesday, October 23rd at Noon to Thursday, October 24th at 4:00 PM.  During these times extreme caution is urged by all residents because a simple spark can cause a major wildfire.  Learn more about Red Flag Warnings from CAL FIRE.
PG&E will provide updates to customers and the City when information is available. Customers can update their contact information to receive notifications sent by PG&E online (https://m.pge.com/#login) or by phone, in English at 1-866-743-6589 and in Spanish at 1-866-743-6589. Residents can also check if their home is in an area where power may be shut off on PG&E's website.
To find more information about preparing for power outages visit www.sonomacity.org/extended-power-outages