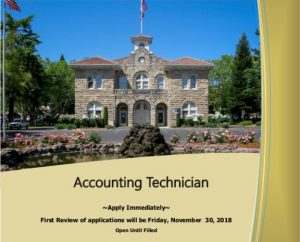 ACCOUNTING TECHNICIAN – City of Sonoma ($59,774-$72,655 per year)
Immediate opening for a full-time Accounting Technician. Performs a variety of complex and technical accounting functions in one or more assigned areas, including payroll, utility billing, accounts payable, accounts receivable, business licenses, and/or cash entries and deposits; provides technical support to the Deputy Finance Director and/or the or the Assistant City Manager/Administrative Services Director. First review of applications will be Friday, November 30, 2018. Position is open until filled.
City application is required and available to download, at City of Sonoma, No. 1 The Plaza, Sonoma, CA 95476, or by calling 707-938-3681.
For more detailed information on the position, please view the Accounting Technician Brochure.