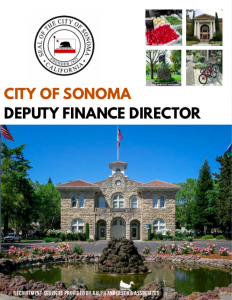 The City of Sonoma is seeking qualified candidates for the new position of Deputy Finance Director. Reporting to the Assistant City Manager/Administrative Services Director, the Deputy Finance Director plans, organizes, manages, and oversees the daily activities and operations of two staff members (1 – FTE/1 – PTE), including: budget development and implementation; accounting and revenue management; internal and external audits; debt financing activities; investment and bond management; revenue collections; financial reporting; and grant functions. View or download the deputy finance director brochure for a detailed description of the position, qualifications, compensations, benefits, and application process.
Interested candidates are encouraged to apply by Friday, June 29, 2018. Electronic submittals should be submitted to Ralph Andersen & Associates at apply@ralphandersen.com and should include a compelling cover letter and comprehensive resume.
Confidential inquiries are welcomed. Contact Ms. Heather Renschler or Mr. Kevin Kwoka at (916) 630-4900 for additional information.