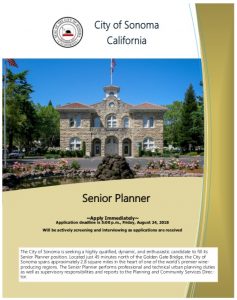 The City of Sonoma is currently accepting applications for a Senior Planner ($86,177 – $104,748 per year).
A Senior Planner performs professional and technical urban planning duties requiring specialized knowledge; to organize, assign and review work of assigned staff engaged in preparing staff reports to the Planning Commission; and to provide highly responsible support to assigned management. This is a mid-management position with full supervisory responsibilities including subordinate evaluations. The Senior Planner receives general direction from the Planning and Community Services Director and is supported by two staff, the Associate Planner and an Administrative Assistant.
Position open until Friday, August 24, 2018. City application required. Detailed brochure and application available at City of Sonoma, No. 1 The Plaza, Sonoma, CA 95476, by calling 707-938-3681 or download the brochure and application from the City's website.