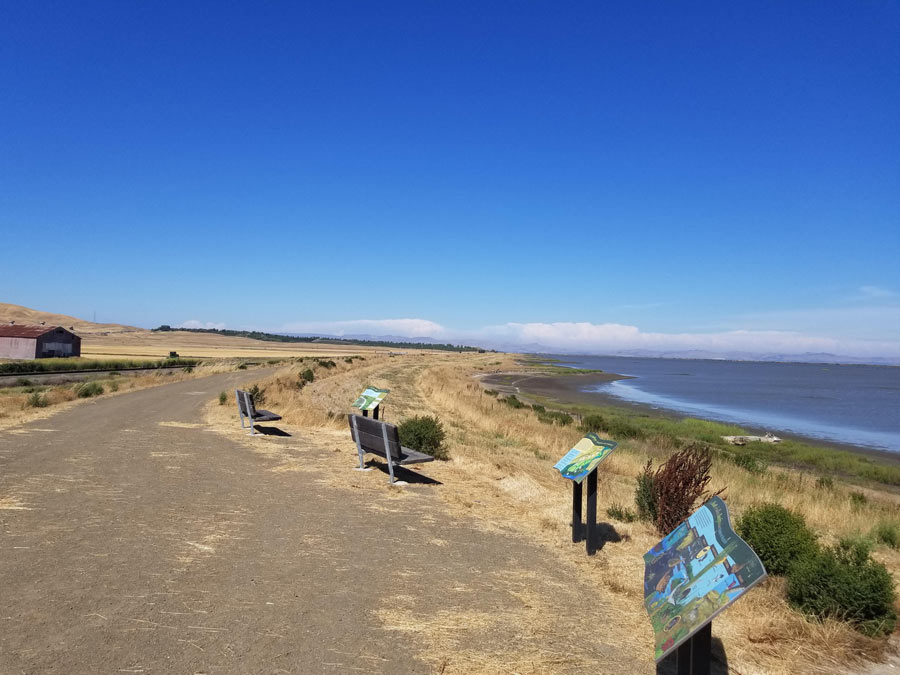 Phone
Address
7699 Reclamation Road, Petaluma, CA 94954
Parks and Recreation DirectoryParks, Open Space and Historic SitesWalking / Hiking TrailsWildflowers, SeasonalWildlife Viewing / Bird Watching
Sears Point Trail at San Pablo Bay National Wildlife Refuge
Website: www.fws.gov/refuge/san-pablo-bay
Age Group(s): Youth, Teen, Adult, Senior
Hours: Sunrise to Sunset
Map It
Description: Part of the San Pablo Bay National Wildlife Refuge, the Sears Point Trail is open year-round during daylight hours, and while dogs are not allowed here, the following trails are open to human hikers. The parking lot at 7699 Reclamation Road offers access to four trails:
Sears Point Trail (1.3 miles) leads to the headquarters of the San Pablo Bay National Wildlife Refuge, with views of oat hay fields that create seasonal wetlands in the wet months.
Eliot Trail (2.5 miles) is one of the newest sections of the San Francisco Bay Trail, a planned 500-mile walking and cycling path around the entire San Francisco Bay. The Eliot Trail offers views of the Sears Point Wetland and Watershed Restoration Project. Seasonally the area contains open water, and waterfowl and shorebirds rest and forage here.
Dickson Trail (0.3 miles) runs south on the levee from the Eliot Trail, providing views of the Sonoma Baylands to the west and the Sears Point Restoration Project to the east.
Sonoma Baylands Trail (1.4 miles)  provides views of newly forming tidal marsh vegetation in the Sonoma Baylands.  This trail can also be accessed at Port Sonoma Marina Boulevard, 1.5 miles west of Reclamation Road.