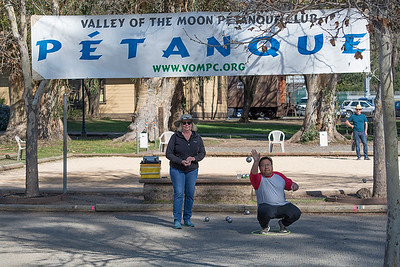 Email
Valleyofthemoonpetanqueclub@gmail.com
Phone
Address
Depot Park, 270 1st St W, Sonoma, CA 95476
Social Media
Athletics, Sports and FitnessParks and Recreation DirectoryPétanque
Valley of the Moon Pétanque Club
Website: www.vompc.org
Age Group(s): Teen, Adult, Senior
Map It
Description: Petanque is complex and intriguing. A player has 3 metal balls that each weigh about 1-1/2 pounds. You toss the first ball out with the intention of getting close to a small target ball that is 6-10 meters away. There are two roles: pointer and shooter. The pointer tries to toss the ball close to the target. If the other team finds it difficult to get closer, their shooter plays. The shooter's job is to hit the opponent's ball away from the target.
Petanque is not played on a smooth surface like bowling or bocce. It's played on Mother Earth, with all her ridges, rolls and occasional gravel. There are several techniques for tossing your ball that vary based upon the ground's contours, obstacles and the player's skill.
It's an easy game to get a feel for. Getting past a novice level takes time. The beauty and attraction of Petanque is, as a player improves, there's enough complexity, competition, comradery, and variation to keep coming back for more. Petanque provides a good challenge. The opportunity is to enjoy the process as you play, learn the intricacies of the game, improve, and meet a range of interesting people.
OTHER CONSIDERATIONS
We play every afternoon, starting about 2pm. There are usually several games at play at any given time. New players often get encouragement and informal coaching.
Playing with the Valley of the Moon Petanque Club has benefits. There are tournaments almost every month. They provide the opportunity to play against a range of players, including US and world champions.