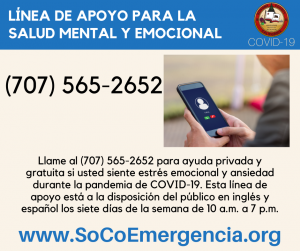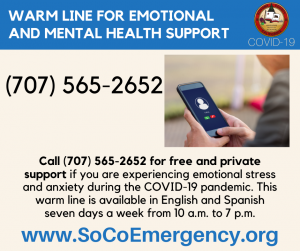 The County of Sonoma has launched a local "warm line" that is available to support the community experiencing emotional stress and anxiety during the COVID-19 pandemic. The warm line is available to any County resident experiencing emotional side effects of the pandemic and/or the shelter in place order or knows somebody who is.
In these very uncertain times, the warm line is a supportive resource for the community. People can call at (707) 565-2652. This free and private warm line is open seven days a week from 10 a.m. to 7 p.m. The warm line has English and Spanish speaking staff answering calls and telephone interpretation for other languages. Please share this resource with your friends and neighbors.
Stay safe and be well.