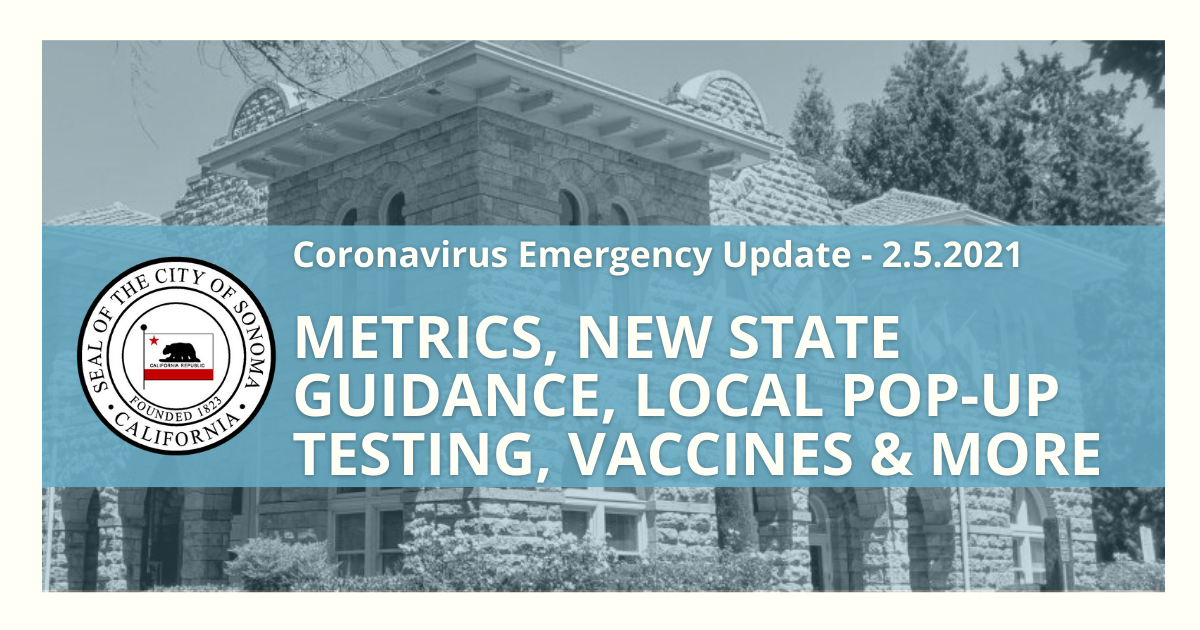 Sonoma County remains the most restrictive "purple" tier in the state's framework.  While case numbers are declining, we are still experiencing a high rate of spread. As of February 2nd, the County has 27.2 new daily cases per 100,000 (down from 34.3 last week), a test positivity rate is 6.5 percent (down from 8.3 percent) and an equity metric positivity rate of 10.8 (down from 13.3 percent). The County needs to be below 7 daily cases as well as have a test positivity rate and equity metric positivity rate below 8 percent for two consecutive weeks in order to move into the next less restrictive tier (red).
STATE ISSUES NEW GUIDANCE FOR REOPENING SPORTS, GYMS AND LIMITED SERVICES SAFELY IN THE PURPLE TIER
The state's industry guidance page has been updated for three sectors: youth and adult recreational sports, gyms and fitness centers, and limited services.
One-on-one personal fitness training indoors is now permitted as long as they comply with the limited services guidance (no more than a total of one trainer and one client permitted at a time per business premises). Gym and fitness center services permitted in the Purple Tier include: drowning prevention classes, including swim lessons with certified instructors, are permitted in indoor and outdoor swimming pools in all tiers, as they are deemed essential.
As of January 25, competitions for some youth and adult recreational sports may resume when meeting specific criteria including – allowable sports are determined by the current tier a county is in (purple for Sonoma County), competitions must be between only two teams, and out-of-state tournaments are not permitted. Click here to read more on youth and adult recreational sports.
TESTING, QUARANTINE & ISOLATION
Until the vaccine can be distributed throughout the community, it is important to remember that testing, tracing and isolating new cases is critical to slowing the spread of the virus. There are many testing options throughout Sonoma County, visit the County's testing page for more information.
The County of Sonoma has created three step by step guides to help navigate testing, quarantine and isolation. All guides are in English and Spanish. Help Keep Sonoma Safe by following these best practices:
See QUARANTINE information to learn what to do if you have been in contact with someone who has COVID-19, but you don't feel sick.
POP UP TESTING IN SONOMA VALLEY THIS WEEK
7 AM – 7 PM Weekly LHI Mobile Unit at Hanna Boys Center
The LHI Mobile COVID-19 Testing Unit has relocated to Hanna Boys Center 7 am-7 pm 2-3 days/week. The unit will be there today (2/5) and tomorrow (2/6) this week and returns next week February 11th – 13th. Registration for the self-administered nasal swap test is required, simply:
Register and make an appointment online at

https://lhi.care/covidtesting

or by calling (888) 634-1123
Arrive shortly before your appointment with your mask and wait in line, have your patient ID number handy!
Check-in with your patient ID number. You will then be handed the testing materials and directed to a window on the exterior of the bus.
A health care practitioner provides you with instructions on administering the test (swap the inside of each nasal cavity 5 times) and return through the window.
Future dates for this unit will be posted on the County's pop up calendar.
2 PM – 4 PM on Wednesdays at St. Leo's
Sonoma Valley Community Health Center offers weekly testing at St. Leo's Catholic Church on Wednesdays from 2 PM – 4 PM. Appointments can be made online at https://sonomacounty.fullslate.com/locations/12058. Click here to watch a Spanish language tutorial on how to make an appointment online.
10 AM – 4 PM on Mondays at St. Leo's – Curative
The County Health Department recommends that only those with symptoms of COVID-19 use this option at this time. These tests are self-administered oral tests. Watch Curative's instructional video in English and Spanish to find out what to expect. Appointments can be made up to 4 days in advance on their website.
VACCINE DISTRIBUTION & NOTIFICATION
Vaccination distribution has been ramping up in Sonoma County with the opening of more vaccination centers and clinics, including the Sonoma Valley Health Partners' drive-through clinic at the Sonoma Valley High School this weekend. To date, Sonoma County has administered ​50,532 doses of vaccine​. Since the vaccines first arrived in the county just six weeks ago, more than 10 percent of the adult population has received at least one dose of vaccine and about 2.5 percent of adults have received two doses.
Sonoma County is currently finishing vaccinating Phase 1a and beginning Phase 1b Tier 1, including seniors 75 and older and law enforcement. The County is expected to announce detailed plans for moving to other age groups and other priority groups soon. The next step will be to move to those 70 and older and then to those 65 and older within the next two weeks.
The County's vaccine distribution website, ​SoCoEmergency.org/vaccine​ ​will be continually updated, giving the public detailed information about the vaccination rollout, safety and how the vaccine is being disseminated in Sonoma County.
SIGN UP – Vaccine Notifications
My Turn – Get notified when it's your turn to get vaccinated by registering on the California Department of Health website, myturn.ca.gov. While it is currently only able to send notifications of eligibility to residents in Sonoma County, the State has advised that the system will be capable of booking vaccine appointments in the near future.
Sonoma Valley Health Partner Vaccination Clinics – For email notifications about future Clinics, please subscribe to the Sonoma Valley Hospital's email list and select "COVID-19 Vaccination Notification."
Thank you for all that you have done and continue to do to keep yourself, your family and your community safe!
We still have a way to go to end the pandemic, but we can continue to flatten the curve by consistently following mitigation measures such as social distancing, wearing face coverings and washing hands.