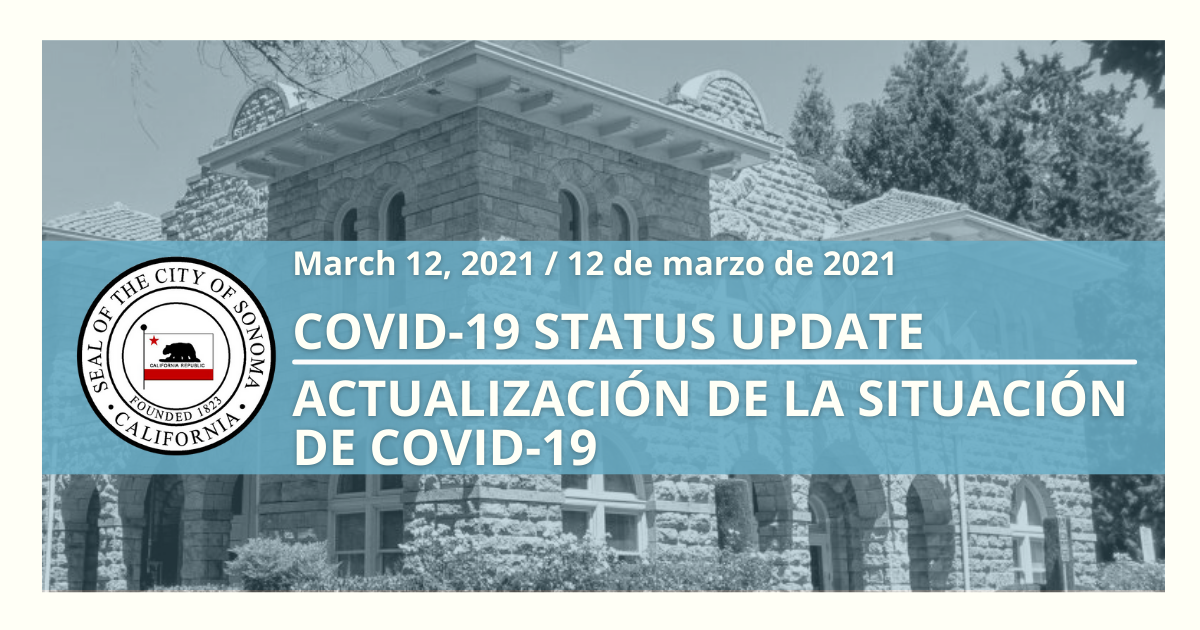 Para traducir esta página, desplácese hasta el final, haga clic en "Translate", y seleccione su idioma.
Updated: March 12th at 2:00 PM to include new information regarding Sonoma County's tier status
Sonoma County remains in the most restrictive "purple" tier in the state's framework, but will move to a less restrictive tier this Sunday following an announcement from California Department of Public Health (CDPH). As of March 10th, the County has 8.2 new daily cases per 100,000 (down from 10 last week), a test positivity rate of 3.1 percent (down from 3.5 percent) and an equity metric positivity rate of 5.3 (down slightly from 5.5 percent). Read the County's Press Release in English and Spanish to learn more about Sonoma County's move to the red tier.
Want to help Sonoma County get into an even less restrictive tier? Keep up the good work by continuing to follow the mitigation measures we are all now so familiar with – wear your mask, keep your distance, practice good hand hygiene, limit gatherings and consider getting tested for COVID-19.
Keep Sonoma Safe – Get Tested!
County health officials recommend that everyone who goes into public – even if they don't have any symptoms and/or have been vaccinated for COVID-19 – get tested at least once per month and those who regularly interact with the public get tested twice each month. The County of Sonoma continues to increase access to free COVID-19 testing, find options in Sonoma Valley below or visit socoemergency.org/test for a complete list.
Pop Up Testing in Sonoma Valley This Week
7 AM – 7 PM Weekly LHI Mobile Unit at Hanna Boys Center
The LHI Mobile COVID-19 Testing Unit has relocated to Hanna Boys Center 7 am-7 pm 2-3 days/week. The unit will be there today (3/12) through Sunday (3/14) and returns next week Friday (3/19)  and Saturday (3/20). Registration for the self-administered nasal swap test is required, simply:
Register and make an appointment online at https://lhi.care/covidtesting or by calling (888) 634-1123
Arrive shortly before your appointment with your mask and wait in line, have your patient ID number handy!
Check-in with your patient ID number. You will then be handed the testing materials and directed to a window on the exterior of the bus.
A health care practitioner provides you with instructions on administering the test (swap the inside of each nasal cavity 5 times) and return through the window.
Future dates for this unit will be posted on the County's pop-up calendar.
2 PM – 4 PM on Wednesdays at St. Leo's
Sonoma Valley Community Health Center offers weekly testing at St. Leo's Catholic Church on Wednesdays from 2 PM – 4 PM. Appointments can be made online at https://sonomacounty.fullslate.com/locations/12058. Click here to watch a Spanish language tutorial on how to make an appointment online.
10 AM – 4 PM on Mondays at St. Leo's – Curative
The County Health Department recommends that only those with symptoms of COVID-19 use this option at this time. These tests are self-administered oral tests. Watch Curative's instructional video in English and Spanish to find out what to expect. Appointments can be made up to 4 days in advance on their website.
Vaccine Distribution
Despite supply challenges, Sonoma County continues to outpace many other counties in vaccine distribution. As of Wednesday, 114,822 Sonoma County residents have received at least one dose of the vaccine, which is equal to about 28 percent of the county's adult (16+) population.
This month, Sonoma County's vaccination campaign is set to begin a phased-in transition to a third-party administrator, Blue Shield, as part of the State's effort to help optimize and accelerate COVID-19 vaccine allocation and distribution throughout the state. Once Sonoma County is switched over to the new system of administering vaccinations, all vaccination appointments will be made through the state's My Turn website. All residents are encouraged to register to be notified when they are eligible or when appointments open up at https://myturn.ca.gov/.
The County's vaccine distribution website, SoCoEmergency.org/vaccine is continually updated, giving the public detailed information about the vaccination rollout, safety and how the vaccine is being disseminated in Sonoma County.
Local Vaccination Information & Resources
The City of Sonoma has created a web page intended to help residents navigate the various vaccination options and resources available in our region including our local pharmacies. Visit www.sonomacity.org/covid-vaccine to find links to local and regional vaccine clinics, sign up for eligibility notifications, find help getting to a vaccination appointment and more.  If you or a loved one needs help navigating the vaccine appointment enrollment process, reach out to someone who can help you – a friend, a family member, or local helpers at Vintage House and La Luz Center – Se habla español.
This page will be updated as information and resources become available. Individual vaccination clinics may not offer vaccines to all eligible populations. Resources listed on this page are subject to change.
New CDC Guidance for Fully Vaccinated Individuals
The Centers for Disease Control and Prevention (CDC) officials released new guidance for those who are fully vaccinated this week. The guidance is advisory in nature and recognizes that the three COVID-19 vaccines are effective in preventing the worst outcomes of COVID-19, including hospitalizations and death, but it's still unclear how much vaccines limit the spread of the virus.
Please Note: A person is considered fully vaccinated two weeks after receiving the second dose of Pfizer or Moderna or has received a single dose of the Johnson & Johnson (also referred to as Janssen) vaccine. If it has been less than two weeks since your shot, or if you still need to get your second dose, you are not fully protected. Keep taking all preventative steps until you are fully vaccinated.
The CDC's guidelines for individuals who have been fully vaccinated include the following:
What has changed for those who are fully vaccinated:
You can gather indoors with fully vaccinated people without wearing a mask.
You can gather indoors with unvaccinated people from one other household (for example, visiting with relatives who all live together) without masks unless any of those people or anyone they live with has an increased risk for severe illness from COVID-19.
If you've been around someone who has COVID-19, you do not need to stay away from others or get tested unless you have symptoms.

However, if you live in a group setting (like a correctional or detention facility or group home) and are around someone who has COVID-19, you should still stay away from others for 14 days and get tested, even if you don't have symptoms.
What has not changed:
You should still take steps to protect yourself and others in many situations, like wearing a mask, staying at least 6 feet apart from others, and avoiding crowds and poorly ventilated spaces.
Take these precautions whenever you are:

In public
Gathering with unvaccinated people from more than one other household
Visiting with an unvaccinated person who is at increased risk of severe illness or death from COVID-19 or who lives with a person at increased risk

You should still avoid medium or large-sized gatherings.
You should still delay domestic and international travel. If you do travel, you'll still need to follow CDC requirements and recommendations.
You should still watch out for symptoms of COVID-19, especially if you've been around someone who is sick. If you have symptoms of COVID-19, you should get tested and stay home and away from others. You will still need to follow the guidance at your workplace.
Esperanza Fund offers Financial Support for COVID Positive Individuals and Households in Sonoma Valley
Sonoma Valley residents that have tested positive for COVID-19 within the past 10 days and need of financial assistance may be eligible for up to $100 per person or up to $500 per household from the Esperanza Fund. If you are in need, please call (707) 210-6768. Proof of positive COVID-19 test and address verification required. Se habla español.
Rotary-Catalyst Grants Available to Sonoma Valley Businesses
Sonoma's Rotary Clubs are making $100,000 in grant money available to Valley businesses. Apply for $500 or more to help your business navigate the COVID pandemic, ensure employee and patron safety, and help keep as many people as possible working.
Businesses eligible to receive grants include retailers, restaurants, laundry services, hotels, auto repair companies, tasting rooms, elder care facilities, service companies, car wash services, barbers and hairdressers, workout facilities, and commercial drivers from Schellville to Kenwood.
To request a grant, businesses can download and complete this simple one-page form. Then businesses can submit the application along with a copy of the business license to Rotary95476@gmail.com.
Those interested in giving to the fund can contribute two ways—through the website at https://www.gofundme.com/f/rotary-catalyst-fund. Or they can mail a check to Sonoma Valley Rotary Foundation, which is a 501(c)3, at PO Box 923, Sonoma, 95476.