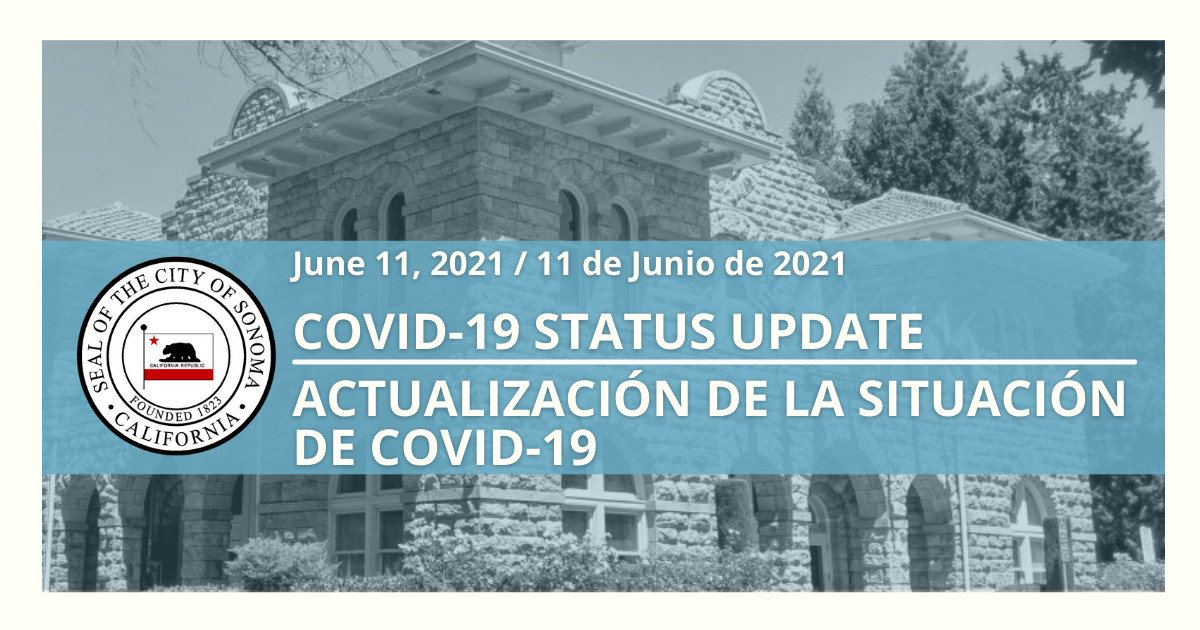 State to move "Beyond the Blueprint," all sectors allowed to fully reopen Tuesday
Tuesday, June 15 is the day California intends to do away with the Blueprint tier system and reopen most of the economy. It is anticipated that on June 15, all industry and business sectors listed in the State's current Blueprint Activities and Business Tiers Chart may return to usual operations with no capacity limits or physical distancing requirements, with limited exceptions for "mega" events. Mega events are characterized by large crowds greater than 5,000 (indoors) and 10,000 (outdoors) attendees.
Find detailed information and FAQs on the CDPH website.
Sonoma County to hold a press briefing  ahead of state reopening
Sonoma County public health officials will hold a virtual press briefing on Monday, June 14 at 3:30 p.m. on the eve of the state lifting COVID-19 restrictions that have been in place since August.
Sonoma County Health Officer Dr. Sundari Mase and other County representatives will discuss the county's progress with vaccinations and the status of COVID spread. They also will urge the public to remain cautious as the virus is still spreading through the community despite a drastic reduction in the case rate since a winter surge.
The briefing will be streamed live on the County of Sonoma Facebook page.
---
New face covering guidance effective June 15th
The State released new guidance for face coverings this week that will go into effect on Tuesday, June 15th. Masks will not be required for fully vaccinated individuals, except in the following settings where masks are required for everyone, regardless of vaccination status:
Additionally, masks are required** for unvaccinated individuals in indoor public settings and businesses (examples: retail, restaurants, theaters, family entertainment centers, meetings, state and local government offices serving the public).
See the CDPH website for complete guidance including businesses and exemptions.
---
Vaccine Distribution & Clinics
The willingness of our community to get vaccinated against COVID-19 has resulted in significantly reduced COVID-19 case rates, hospitalizations and deaths, which has allowed our businesses and institutions to gradually reopen. As of Wednesday, 72% of our eligible 12+ population had received at least one dose. While health officials are pleased with this progress, they caution that vaccination rates for younger adults aged 18-34 are lagging compared to other age groups.
While data show that positivity rates are holding steady, case rates have increased slightly this week. Sonoma County Health officials say that a key factor in new cases is lagging vaccinations among younger adults, with unvaccinated residents ages 18 to 34 accounting for most of the new cases.
Are you one of the 28% who hasn't been vaccinated?
Vaccines are now readily available to anyone 12+ who wants one.  Visit the SoCo Emergency website for a complete list of vaccine clinics or walk into one of the local pop-ups listed below.
Saturday, June 12, noon to 3 p.m., El Verano School, 18606 Riverside Dr., Sonoma. Walk-ins welcome. svhpvaccines.org
Tuesday, June 15, 5 – 7 p.m., Fiesta Shopping Center, 18615 Sonoma Hwy 12. As part of Sonoma Valley Community Health Center's 'Neighborfest.' Walk-ins welcome. svchc.org/events/
---
Need help paying rent or utilities? Apply for ERAP today.
Don't qualify for ERAP but need payment assistance? Call La Luz Center (707) 938- 5131 or Petaluma People Services (707) 765-8488
---
This Week's Testing Opportunities in Sonoma Valley
County health officials recommend that everyone who goes into public – even if they don't have any symptoms and/or have been vaccinated for COVID-19 – get tested at least once per month and those who regularly interact with the public get tested twice each month. The County of Sonoma continues to increase access to free COVID-19 testing, find options in Sonoma Valley below or visit socoemergency.org/test for a complete list.
WEDNESDAYS, 9:30 AM – 11:30 AM at Boyes Hot Springs Park and Ride | Weekly testing at the Park and Ride on Hwy 12 and Thompson Ave. Appointments can be made online at https://sonomacounty.fullslate.com/locations/15996 or by calling (707) 565-4667.  Click here to watch a Spanish language tutorial on how to make an appointment online.
WEDNESDAYS, 2 PM – 4 PM at St. Leo's | Weekly testing at St. Leo's Catholic Church. Appointments can be made online at https://sonomacounty.fullslate.com/locations/12058 or by calling (707) 565-4667. Click here to watch a Spanish language tutorial on how to make an appointment online.