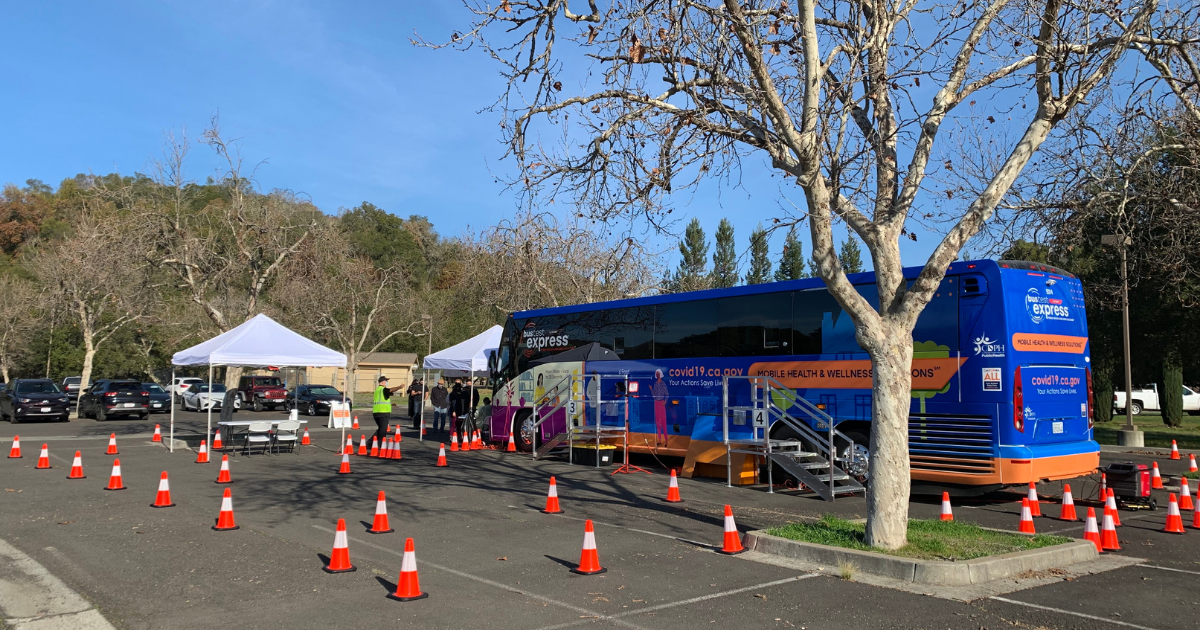 Para traducir esta página, desplácese hasta el final, haga clic en "Translate", y seleccione su idioma.
The County reported a case rate this week of 43.5 new daily cases per 100,000 (up slightly from 41.4 last week), a test positivity rate of 11.4 percent, and 32 COVID-related hospitalizations in the county as of Monday. Four of those COVID patients were in the ICU. See the county's updated Metrics and Trends for the most up-to-date data.
Learn more about the recent approval of pediatric vaccine boosters, second boosters for certain groups, and changes in local testing opportunities below.
---
Vaccine clinics (Pediatric, 1st Dose, 2nd Dose & Boosters)
As of this week, 82.1% percent of the County's 5 and older population is now fully vaccinated, while 88.5% percent have received at least one dose. Vaccine appointments are now available for anyone 5 years or older who wants one at one of the many clinics, pharmacies or health centers in the County. Go to MyTurn.ca.gov to find an appointment that works for you and find a list of local clinics on the Sonoma Valley Health Partner Website, a list of County vaccine providers can be found at SoCoEmergency.org/vaccine.
Boosters available for anyone 5 and older
With the recent federal approval of COVID-19 booster shots for younger children, anyone 5 and older is now eligible to receive a third dose of the Pfizer-BioNTech vaccine. Appointments for boosters for 5- to 11-year-olds can be made through MyTurn.ca.gov and are being administered by primary health care providers, pharmacies, and clinics – including the Sonoma Valley Community Health Center vaccine clinic on Wednesdays from 5:00 p.m. – 8:00 p.m.
The U.S. Food and Drug Administration and the Centers for Disease Control and Prevention last week granted emergency use authorization for the Pfizer-BioNTech booster for 5- to 11-year-olds who have waited at least five months since their second vaccine dose. The pediatric vaccine is one-third of the dose given to adolescents and adults.
To date, roughly 15,500 Sonoma County residents 5 to 11 years old, or 42 percent of the roughly 37,000 in that age group, have been fully vaccinated and are eligible to receive boosters.
Second boosters are available for those aged 50+
The California Department of Public Health (CDPH) and Western States Scientific Safety Review Workgroup (WSSSRW) have approved a second booster dose of the Moderna or Pfizer COVID-19 vaccine for certain groups. You can get an additional booster shot if you received your first booster more than four months ago and are:
---
Testing opportunities
More free test kits from the federal government
The White House has said that Americans are now eligible for a third order of free, at-home COVID tests shipped through the Postal Service. The move doubled to 16 the total number of tests the program has made available to each household.
The tests, authorized by the Food and Drug Administration, are available on the federal website covidtests.gov.
The county

urges anyone who tests positive using an at-home antigen test to report the

result to county health by using this

online form

.
Pop-Up Testing in Sonoma Valley:
Monday – Friday, 7 am – 2 pm at the Fiesta Plaza 18615 Sonoma Hwy., Sonoma by Curative. Currently, Medical insurance is required if insured, otherwise there is a cost of $99. Children of any age can test with family support.  To make an appointment: Visit the Curative website or call (888) 702-9042.
Saturdays, 8 am – 4 pm at the Sonoma Valley Community Health Center by LHI – FREE COVID-19 Testing (Antigen and PCR) at SVCHC parking lot. To make an online appointment visit https://lhi.care/covidtesting or via phone, call 1-888-634-1123. Walk-ins are also welcome.
Sundays, 8 am – 2 pm at the Boyes Hot Springs Park and Ride at Hwy.12 & Thompson Ave., Boyes Hot Springs. Currently, Medical insurance is required if insured, otherwise there is a cost of $99. Children of any age can test with family support.  To make an appointment: Visit the Curative website or call (888) 702-9042.
Find additional pop-up testing locations and make an appointment on the County's testing page or call the hotline at 707-565-4667. The hotline is available to help residents sort through their many testing options in Spanish and English.