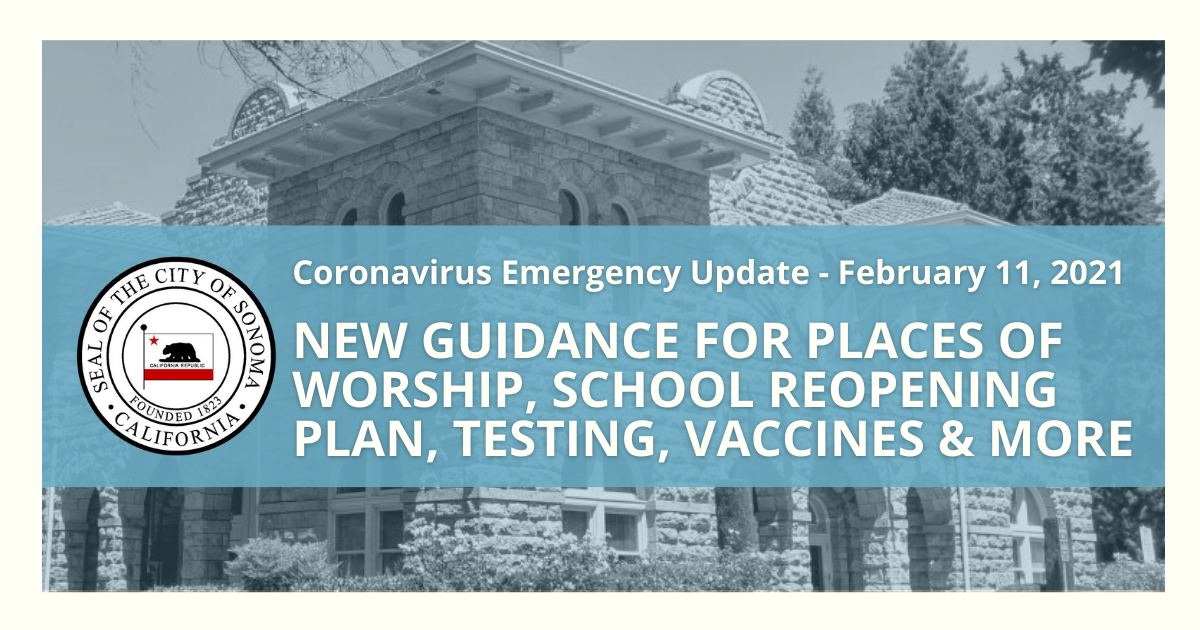 Sonoma County remains the most restrictive "purple" tier in the state's framework.  As of February 11th, the County has 20.5 new daily cases per 100,000 (down from 27.2 last week), a test positivity rate is 5.2 percent (down from 6.5 percent) and an equity metric positivity rate of 8.6 (down from 10.8 percent). The County needs to be below 7 daily cases as well as have a test positivity rate and equity metric positivity rate below 8 percent for two consecutive weeks in order to move into the next less restrictive tier (red).
New California Department of Public Health (CDPH) Guidance on Places of Worship
CDPH issued revised guidelines for indoor church services at churches, mosques, synagogues and temples after the Supreme Court lifted the state's ban on indoor worship during the coronavirus pandemic. Restrictions on singing and chanting remain in place.
The new state guidelines limit attendance at indoor services in areas with widespread or substantial virus spread (purple and red tier) to 25% of a building's capacity. Indoor services in areas with moderate to minimum spread (orange and yellow tier) are limited to 50% capacity.
Find guidance for places of worship and providers of religious services to support a safe, clean environment for congregants, visitors, workers, and volunteers on the State's website. This guidance also applies to cultural ceremonies like weddings and funerals.
Help move Sonoma County out of the Purple Tier- Get Tested for COVID-19
Free COVID tests are more accessible than ever in Sonoma County. In addition to keeping our community safe, getting tested for COVID-19 can help move the county to a less-restrictive tier and thus open more businesses and activities.
When a county tests more than average, the state lowers the adjusted case rate per 100,000. Unfortunately, right now in Sonoma County, our testing numbers are now lower than the state average, so we are getting penalized in our adjusted case rate.
The County's actual case rate is 16.8, but because we are not meeting the state's average testing numbers, the adjusted case rate of daily COVID-19 cases per 100,000 population in the County of Sonoma is now 20.5. This number needs to drop below 7 to help us move into the less-restrictive red tier.
So, help Sonoma County move out of the purple tier and get tested this week!
Free COVID-19 testing is available seven days a week in Sonoma County, visit
https://socoemergency.org/test
for a comprehensive list and see below for pop up testing opportunities in Sonoma Valley.
Pop Up Testing in Sonoma Valley This Week
7 AM – 7 PM Weekly LHI Mobile Unit at Hanna Boys Center
The LHI Mobile COVID-19 Testing Unit has relocated to Hanna Boys Center 7 am-7 pm 2-3 days/week. The unit will be there today (2/12) and tomorrow (2/13) this week and returns next week February 18th and 19th. Registration for the self-administered nasal swap test is required, simply:
Register and make an appointment online at https://lhi.care/covidtesting or by calling (888) 634-1123
Arrive shortly before your appointment with your mask and wait in line, have your patient ID number handy!
Check-in with your patient ID number. You will then be handed the testing materials and directed to a window on the exterior of the bus.
A health care practitioner provides you with instructions on administering the test (swap the inside of each nasal cavity 5 times) and return through the window.
Future dates for this unit will be posted on the County's pop up calendar.
2 PM – 4 PM on Wednesdays at St. Leo's
Sonoma Valley Community Health Center offers weekly testing at St. Leo's Catholic Church on Wednesdays from 2 PM – 4 PM. Appointments can be made online at https://sonomacounty.fullslate.com/locations/12058. Click here to watch a Spanish language tutorial on how to make an appointment online.
10 AM – 4 PM on Mondays at St. Leo's – Curative
The County Health Department recommends that only those with symptoms of COVID-19 use this option at this time. These tests are self-administered oral tests. Watch Curative's instructional video in English and Spanish to find out what to expect. Appointments can be made up to 4 days in advance on their website.
Vaccine Distribution
Vaccination distribution continues to expand in Sonoma County with the opening of more vaccination centers and clinics, including a clinic scheduled to begin next week at the Sonoma Valley Veteran's Building operated by Sonoma Valley Community Health Center and another Sonoma Valley Health Partners' drive-through clinic at the Sonoma Valley High School this Sunday. To date, Sonoma County has administered ​74,426 doses of vaccine​. Since the vaccines first arrived in the county just seven weeks ago, more than 15 percent of the adult population has received at least one dose of vaccine.
Sonoma County is currently vaccinating Phase 1b Tier 1, with priority given to seniors 70 and older, child-care workers and agricultural workers.
The County's vaccine distribution website, ​SoCoEmergency.org/vaccine​ ​is continually updated, giving the public detailed information about the vaccination rollout, safety and how the vaccine is being disseminated in Sonoma County.
SIGN UP – Vaccine Notifications
My Turn – Get notified when it's your turn to get vaccinated by registering on the California Department of Health website, myturn.ca.gov. While it is currently only able to send notifications of eligibility to residents in Sonoma County, the State has advised that the system will be capable of booking vaccine appointments in the near future.
Sonoma Valley Health Partner Vaccination Clinics – For email notifications about future Clinics, please subscribe to the Sonoma Valley Hospital's email list and select "COVID-19 Vaccination Notification."
Sonoma Valley Community Health Center – Sign up for their e-newsletter to get notifications about the clinic at the Sonoma Valley Veteran's Memorial Building. A subscription form can be found at the bottom of their website homepage.
School Reopening Plan
Recent guidance under California's Safe Schools for All Plan allows Sonoma County schools serving grade levels from transitional kindergarten to sixth grade to be eligible to return to in-person learning with an approved COVID-19 Safety Plan, based on the County's adjusted daily case rate of less than 25 per 100,000 residents for five consecutive days.
Sonoma County remains in the most restrictive purple tier under the state's Blueprint for a Safer Economy. All other grade levels are restricted from returning to in-person learning until Sonoma County moves into the red tier.
Before reopening for in-person instruction, eligible schools serving grades TK-6 are required to submit their COVID-19 Safety Plan to state and local health officials for review and approval, and to make the approved plan available online. These plans address in detail the safety precautions that a district and individual school sites will take to ensure the safety of students and staff including detailed testing protocols, how contact tracing will be handled, the logistics of student dropoff, room spacing, air ventilation, and much more.
Upon approval of the safety plan, schools may reopen as long as the County has a case rate below 25 per 100,000 residents for five consecutive days for grades TK-6. Once the County moves into the red tier for five consecutive days, schools serving any grade level (TK-12) can reopen.
COVID-19 Safety Plans must be posted online for at least five consecutive days prior to reopening. The new safety plan review process only applies to schools that have not reopened under the waiver process, although all schools are required to have a COVID-19 Safety Plan posted online if they have reopened. County health officials will prioritize review of COVID-19 Safety Plans for schools serving TK-6 grade levels that seek to reopen in the purple tier.
A list of schools that have submitted COVID Safety Plans for review by the County Health Officer as well as those schools that have been cleared for reopening will be posted soon and updated on socoemergency.org.