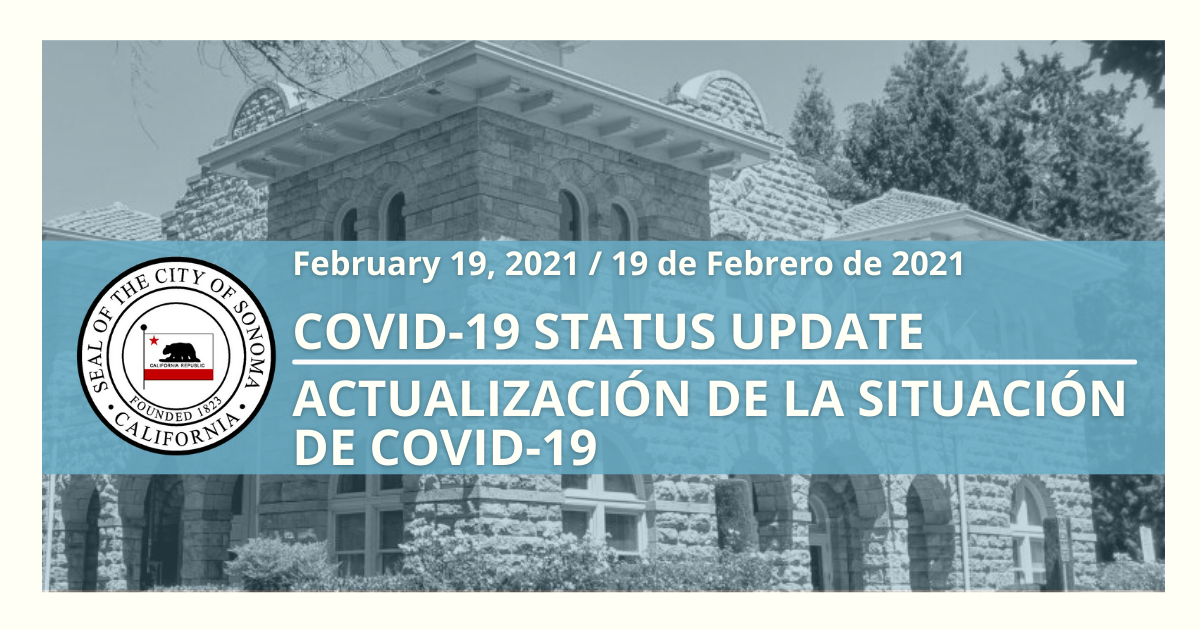 Para traducir esta página, desplácese hasta el final, haga clic en "Translate", y seleccione su idioma.
Sonoma County remains the most restrictive "purple" tier in the state's framework.  As of February 11th, the County has 14.2 new daily cases per 100,000 (down from 20.5 last week), a test positivity rate is 3.9 percent (down from 5.2 percent) and an equity metric positivity rate of 5.4 (down from 8.6 percent). The County needs to be below 7 daily cases as well as have a test positivity rate and equity metric positivity rate below 8 percent for two consecutive weeks in order to move into the next less restrictive tier (red).
Help move Sonoma County out of the Purple Tier- Get Tested!
Although our case rate is down significantly in recent weeks, Sonoma County is still experiencing widespread community transmission. Knowing your COVID status helps you protect yourself and others, reduces transmission, and moves Sonoma County closer to getting people back to work and school. You can get tested for free at sites throughout Sonoma County seven days a week and test results are usually given within 24 to 48 hours.
For testing sites throughout the County seven days a week, go to Sonoma County's COVID-19 Testing and Tracing page, and visit the pop-up testing calendar for times and locations of places you can get tested.
Pop Up Testing in Sonoma Valley This Week
7 AM – 7 PM Weekly LHI Mobile Unit at Hanna Boys Center
The LHI Mobile COVID-19 Testing Unit has relocated to Hanna Boys Center 7 am-7 pm 2-3 days/week. The unit will be there today (2/18) and tomorrow (2/19) this week and returns next week February 26th-28th. Registration for the self-administered nasal swap test is required, simply:
Register and make an appointment online at https://lhi.care/covidtesting or by calling (888) 634-1123
Arrive shortly before your appointment with your mask and wait in line, have your patient ID number handy!
Check-in with your patient ID number. You will then be handed the testing materials and directed to a window on the exterior of the bus.
A health care practitioner provides you with instructions on administering the test (swap the inside of each nasal cavity 5 times) and return through the window.
Future dates for this unit will be posted on the County's pop up calendar.
2 PM – 4 PM on Wednesdays at St. Leo's
Sonoma Valley Community Health Center offers weekly testing at St. Leo's Catholic Church on Wednesdays from 2 PM – 4 PM. Appointments can be made online at https://sonomacounty.fullslate.com/locations/12058. Click here to watch a Spanish language tutorial on how to make an appointment online.
10 AM – 4 PM on Mondays at St. Leo's – Curative
The County Health Department recommends that only those with symptoms of COVID-19 use this option at this time. These tests are self-administered oral tests. Watch Curative's instructional video in English and Spanish to find out what to expect. Appointments can be made up to 4 days in advance on their website.
Vaccine Distribution – County Expands Eligibility to those 65 Years or Older, Grocery and Restaurant Workers beginning Monday, February 22nd.
Sonoma County continued to vaccinate residents in Phase 1a and Phase 1b, Tier 1 this past week and beginning Monday, February 22nd, eligibility will expand to include residents 65-69 years old, grocery and restaurant workers (see the County's press release in English and Spanish). Educators are receiving vaccinations at a clinic administered through the Sonoma County Office of Education, and agriculture workers are getting vaccinated at several clinics via their employers. Sonoma County has opened an additional vaccination center Sonoma Valley Veteran's Building operated by Sonoma Valley Community Health Center and another Sonoma Valley Health Partners' drive-through clinic at the Sonoma Valley High School is scheduled for this Sunday. The county now has the capacity to administer more than 3,000 doses per day, but continues to be limited by the supply of vaccines they receive from the state. The County's allocation this week is 8,025 doses.
As of Friday, 85,889  Sonoma County residents have received at least one dose of the vaccine, which is equal to more than 20 percent of the county's adult (16+) population.
The County's vaccine distribution website, SoCoEmergency.org/vaccine is continually updated, giving the public detailed information about the vaccination rollout, safety and how the vaccine is being disseminated in Sonoma County.
New Vaccination Information & Resources Web Page
The City of Sonoma has created a web page intended to help residents navigate the various vaccination options and resources available in our region. Visit www.sonomacity.org/covid-vaccine to find links to local and regional vaccine clinics, sign up for eligibility notifications, find help getting to a vaccination appointment and more.  If you or a loved one needs help navigating the vaccine appointment enrollment process, reach out to someone who can help you – a friend, a family member, or local helpers at Vintage House and La Luz Center – Se habla español.
This page will be updated as information and resources become available. Individual vaccination clinics may not offer vaccines to all eligible populations. Resources listed on this page are subject to change.
State Issues New Guidance on Outdoor and Indoor Youth and Recreational Adult Sports Activities, Effective February 26th
The California Department of Health issued new guidance on Friday that provides direction on outdoor and indoor youth and recreational adult sports activities to support a safe environment for these sports. The guidance applies to all organized youth sports and recreation— including school- and community-sponsored programs, and privately-organized clubs and leagues — and adult recreational sports. This guidance does not apply to collegiate or professional sports. Additionally, this guidance does not apply to community events, such as marathons, half-marathons, and endurance races. The new guidance can be found on the CDPH website at https://www.cdph.ca.gov/Programs/CID/DCDC/Pages/COVID-19/outdoor-indoor-recreational-sports.aspx