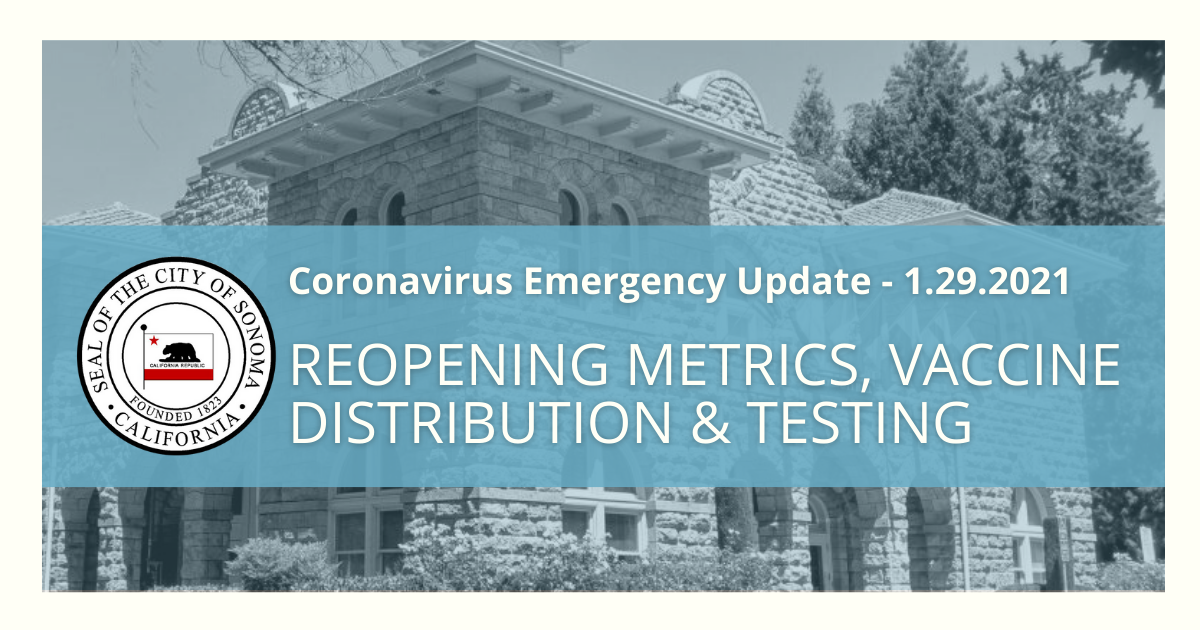 The state lifted the Regional Stay-Home Order Monday, but Sonoma County is still experiencing significant community spread is currently in the most restrictive "purple" tier in the state's framework. As of this week, the County has 34.3 new daily cases per 100,000, a test positivity rate is 8.3 percent and an equity metric positivity rate of 13.3 percent. The County needs to be below 7 daily cases as well as have a test positivity rate and equity metric positivity rate below 8 percent for two consecutive weeks in order to move into the next less restrictive tier (red).
LOCAL VACCINE DISTRIBUTION AND ADMINISTRATION
The County of Sonoma has administered 34,802 doses of the COVID-19 vaccine to date. The county continues to ramp up vaccination distribution and is now vaccinating Phase 1a Tier 1, 2 and 3 populations and plans to expand to the much larger Phase 1b population group early in February. There are new opportunities for residents 75 and older to get vaccinated including:
• OptumServe Clinic in Rhonert Park – Serving Sonoma County Residents 75 and Older. This week, Sonoma County announced a new clinic for seniors 75 and older in partnership with OptumServe at the Rohnert Park Community Center. This clinic is part of a pilot program through the state, with a capacity of up to 420 people per day. Sign-ups for those 75 and older are available here: https://myoptumserve.com/covid19
• February 5th – 7th, Drive-Thru Clinic at Sonoma Valley High School Parking Lot Serving Residents 75 and Older
Next week, a drive-thru, by appointment only vaccination clinic for residents ages 75 and older will take place at the Sonoma Valley High School parking lot with the capacity to vaccinate up to 1,000 people over three days.  The clinic is a partnership between the Sonoma Valley Hospital, Sonoma Valley Community Health Center, Sonoma Valley Fire District, Schelle-Vista Fire Protection District and the City of Sonoma.
The online registration and appointment system is expected to be available early next week. Please sign up to receive an email notification from Sonoma Valley Hospital when appointments become available. Once the scheduler is activated, Vintage House, La Luz Center, Sonoma Valley Community Health Center and the City of Sonoma will be available to provide registration assistance by phone during business hours to help those who need help completing the online form. Stay Tuned – more information and details about this clinic will be provided as it becomes available.
Please visit the County's vaccine distribution website for updates and detailed information about the vaccination roll-out, safety and how the vaccine is being disseminated.
TESTING
While you're waiting for your turn to get vaccinated, is it important to continue to follow all safety protocols and get tested. For testing sites throughout the county seven days a week, go to Sonoma County's COVID-19 testing and tracing page and visit the County's pop-up testing calendar to find more information times and locations including the Wednesday Pop Up at St. Leo's and the LHI Mobile Bus. Please note that the LHI Mobile Unit will be moving locations next week from the Veteran's Building to Hanna Boys Center on February 5th and 6th.