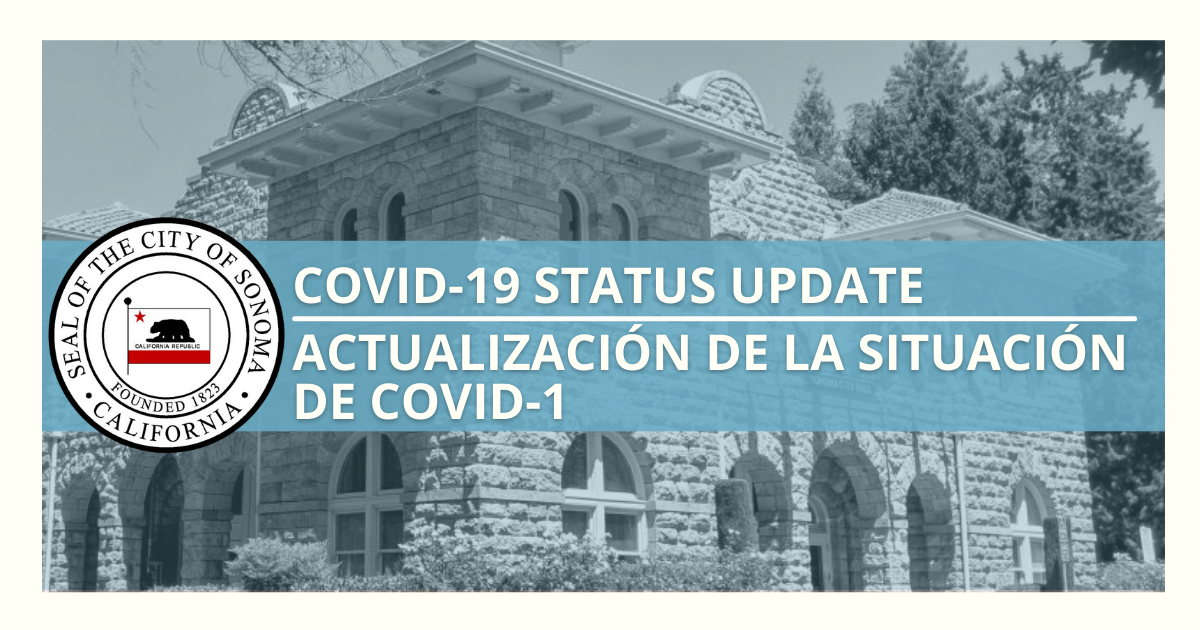 Para traducir esta página, desplácese hasta el final, haga clic en "Translate", y seleccione su idioma.
Case rates increased slightly this week in Sonoma County. The County reported a case rate this week of 10.9 new daily cases per 100,000 (up slightly from 10.2) – the case rate among the unvaccinated individuals is 22.2 per 100,000 compared with 5.7 for vaccinated residents. The county reported a test positivity rate of 2.8 percent (up slightly from 2.4), an equity metric positivity rate of 3.0 percent (up from 2.6) and as of Tuesday, 23 COVID patients were in Sonoma County hospitals. This included 7 COVID patients in ICU beds. The unvaccinated account for most COVID patients in local hospitals. See the County's updated Metrics and Trends page for the most up-to-date data.
More information on pediatric COVID-19 vaccine rollout including local school site clinics, new County guidance on holiday travel and gatherings, and this week's COVID-19 vaccine and testing clinics below.
---
Sonoma County issues COVID-19 guidance for holiday gatherings and travel
People planning to travel and attend gatherings over the holidays are advised to make sure they have proper documents required by some destinations, airlines and events to prove their vaccination or testing status in the county's COVID-19 guidance released last week. In addition, County Health Officer Dr. Sundari Mase encourages people who are not vaccinated to get immunized before the holidays to avoid another surge in cases like we experienced last year. Read the full press release in English and Spanish for complete information.
---
Vaccine Updates and Clinics
As of this week, 73 percent of the County's 5 and older population is now fully vaccinated, while 79.6 percent have received at least one dose. Vaccine appointments are now available for anyone 5 years or older who wants one at one of the many clinics, pharmacies or health centers in the County. County officials acknowledge that the supply of Pfizer's pediatric vaccine is less plentiful than the vaccine for those age 12 and older, but will increase in the coming weeks. Go to MyTurn.ca.gov to find an appointment that works for you and find a list of local clinics on the Sonoma Valley Health Partner Website.
COVID-19 vaccine available for children ages 5-11
With federal and state regulators having now approved the use of the Pfizer COVID-19 vaccine for children ages 5 to 11, Sonoma County began vaccinating the roughly 37,000 children in this age range through primary care physicians, local pharmacies, or county-sponsored school-based clinics this week.
Parents who have health care coverage are encouraged to reach out to their pediatrician, local pharmacy or the State's MyTurn website to find a vaccination appointment. The county is working with the Sonoma County Office of Education to set up clinics intended to serve people who do not have convenient or affordable access to healthcare providers. The following school site clinics are intended for Sonoma Valley students and their families, more clinics may be added, visit the Sonoma County Office of Education website  for a complete list:
Dunbar Elementary School, 11700 Dunbar Road, Glen Ellen on Friday, November 12th & December 3rd from 4:00 – 6:00 PM
Sassarini Elementary School, 625 5th Street West, on Monday, November 15th & December 6th, from 4:00 – 6:00 PM
Altimira Middle School, 17805 Arnold Dr, Tuesday, November 16th & December 7th from 4:00 – 6:00 PM
Flowery Elementary, 17600 Sonoma Highway, Thursday, November 18th & December 8th from 4:00 – 6:00 PM
Adele Harrison Middle School, 1150 Broadway, Friday, November 19th & December 9 from 4:00 – 6:00 PM
El Verano Elementary School, 18606 Riverside Dr, on Monday, December 13th & January 3rd from 4:00 – 6:00 PM
Vaccine Clinics for 12+ in Sonoma Valley:
Saturdays, 12 – 3 pm Sonoma Valley Community Health Center, 19270 Sonoma Hwy, Sonoma CA 95476. Walk-ins welcome. For questions call (707) 939-6070
Wednesdays, 3:30 – 6:30 pm at Sonoma Valley Community Health Center, 19270 Sonoma Hwy, Sonoma CA 95476. Walk-ins welcome. For questions call (707) 939-6070
Thursdays, 4 – 7 pm at La Luz Center, 17560 Greger St., Sonoma CA 95476. Walk-ins welcome. For questions call (707) 939-6070
---
Testing opportunities
Find testing locations and make an appointment on the County's testing page or call the hotline at 707-565-4667. The hotline is available to help residents sort through their many testing options in Spanish and English.
Pop-Up Testing in Sonoma Valley:
Sundays, 8 am – 2 pm at the Boyes Hot Springs Park and Ride at Hwy.12 & Thompson Ave., Boyes Hot Springs. To make an appointment: Visit the Curative website or call (888) 702-9042.
Tuesdays – Fridays, 7 am – 2 pm at the Fiesta Plaza 18615 Sonoma Hwy., Sonoma. To make an appointment: Visit the Curative website or call (888) 702-9042.