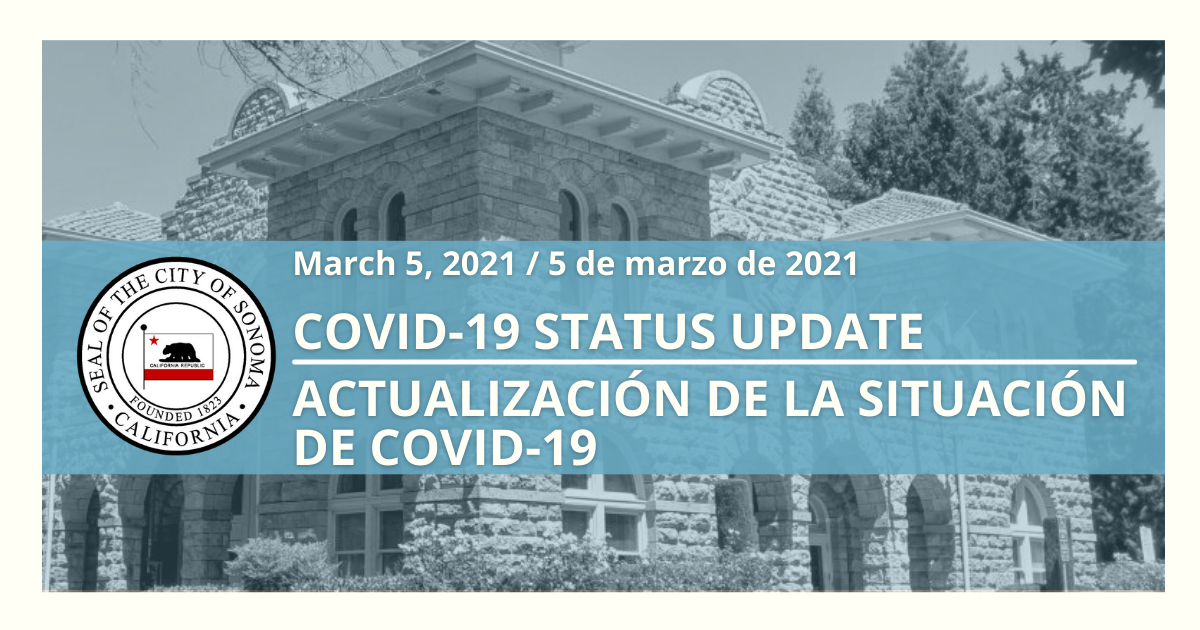 Para traducir esta página, desplácese hasta el final, haga clic en "Translate", y seleccione su idioma.
Sonoma County remains in the most restrictive "purple" tier in the state's framework, but we are headed in the right direction! As of March 2nd, the County has 10 new daily cases per 100,000 (down from 14 last week), a test positivity rate of 3.5 percent (down from 4.6 percent) and an equity metric positivity rate of 5.5 (up slightly from 5.4 percent). The County needs to be below 7 daily cases as well as have a test positivity rate and equity metric positivity rate below 8 percent for two consecutive weeks in order to move into the next less restrictive tier (red).
Want to help Sonoma County get into a less restrictive tier? Keep up the good work by continuing to follow the mitigation measures we are all now so familiar with – wear your mask, keep your distance, practice good hand hygiene, limit gatherings and consider getting tested for COVID-19.
Help move Sonoma County out of the Purple Tier- Get Tested!
COVID-19 tests are more available now than at any other point during the pandemic. Everyone is encouraged to get tested. While our case numbers are down significantly in recent weeks – our daily case rate that was 50 in January is now down to 10 – we still have widespread community transmission. Knowing your status helps you protect yourself and others, helps with the county's efforts to limit the spread of the virus and to track the prevalence of variants, and helps Sonoma County move closer to getting people back to work and school.
There are many other reasons for anyone who goes out into the public, even infrequently, to get tested on a regular basis:
Between 30 to 40 percent of people who have COVID-19 have mild or no symptoms, and they can then pass it on to others who might not have the same mild response to COVID-19.
If we did more testing, we could qualify for the 0.5 multiplier, cutting our adjusted case rate in half, which would qualify us to move into the red tier in the state blueprint for reopening.
It will take many months before enough people are fully vaccinated to stop the spread of COVID-19, so people should continue to get tested, even if they are fully vaccinated.
County health officials recommend that those who go out into the public get tested at least once per month and those who regularly interact with the public get tested twice each month.
For testing sites throughout the County seven days a week, go to Sonoma County's COVID-19 Testing and Tracing page, and visit the pop-up testing calendar for times and locations of places you can get tested.
Pop Up Testing in Sonoma Valley This Week
7 AM – 7 PM Weekly LHI Mobile Unit at Hanna Boys Center
The LHI Mobile COVID-19 Testing Unit has relocated to Hanna Boys Center 7 am-7 pm 2-3 days/week. The unit will be there today (3/5) and returns next week Friday (3/12) – Sunday (3/14). Registration for the self-administered nasal swap test is required, simply:
Register and make an appointment online at https://lhi.care/covidtesting or by calling (888) 634-1123
Arrive shortly before your appointment with your mask and wait in line, have your patient ID number handy!
Check-in with your patient ID number. You will then be handed the testing materials and directed to a window on the exterior of the bus.
A health care practitioner provides you with instructions on administering the test (swap the inside of each nasal cavity 5 times) and return through the window.
Future dates for this unit will be posted on the County's pop-up calendar.
2 PM – 4 PM on Wednesdays at St. Leo's
Sonoma Valley Community Health Center offers weekly testing at St. Leo's Catholic Church on Wednesdays from 2 PM – 4 PM. Appointments can be made online at https://sonomacounty.fullslate.com/locations/12058. Click here to watch a Spanish language tutorial on how to make an appointment online.
10 AM – 4 PM on Mondays at St. Leo's – Curative
The County Health Department recommends that only those with symptoms of COVID-19 use this option at this time. These tests are self-administered oral tests. Watch Curative's instructional video in English and Spanish to find out what to expect. Appointments can be made up to 4 days in advance on their website.
New UK Variant Discovered in Sonoma County
One case of the B.1.1.7 or UK variant has now been discovered in Sonoma County and the case is being handled in accordance with usual protocols for case investigation and contact tracing.
Scientists and public health officials are studying these variants quickly to learn more to control their spread. They want to understand whether the variants:
Spread more easily from person-to-person
 Cause milder or more severe disease in people
Are detected by currently available viral tests
Respond to medicines currently being used to treat people for COVID-19
Change the effectiveness of COVID-19 vaccines
The discovery did not come as a surprise to Public Health officials but it underscores the importance of Sonoma County's continued participation in state and federal efforts to test for coronavirus variants. Multiple variants of the virus that causes COVID-19 have been identified globally during the pandemic. Variants are determined by their genetic sequences. The state Public health lab is working to sequence the genetic material of the virus in California.
Vaccine Distribution
Vaccine supply remained limited this week and many clinics, including the Sonoma Valley Community Health Center clinic at the Sonoma Valley Veteran's Building, have postponed first-dose vaccinations until further notice. While some providers have had to reschedule second dose appointments, the Sonoma Valley Hospital has confirmed that Sunday's second dose drive-through clinic will not be canceled and those who have appointments will receive their second dose as scheduled.
Despite supply challenges, Sonoma County continues to outpace many other counties in vaccine distribution. As of Wednesday, 108,737 Sonoma County residents have received at least one dose of the vaccine, which is equal to more than 26 percent of the county's adult (16+) population. The County now has the capacity to administer more than 5,000 doses per day, but lacks sufficient supply.
This month, Sonoma County's vaccination campaign is set to begin a phased-in transition to a third-party administrator, Blue Shield, as part of the State's effort to help optimize and accelerate COVID-19 vaccine allocation and distribution throughout the state. Once Sonoma County is switched over to the new system of administering vaccinations, all vaccination appointments will be made through the state's My Turn website. All residents are encouraged to register to be notified when they are eligible or when appointments open up at https://myturn.ca.gov/.
The County's vaccine distribution website, SoCoEmergency.org/vaccine is continually updated, giving the public detailed information about the vaccination rollout, safety and how the vaccine is being disseminated in Sonoma County.