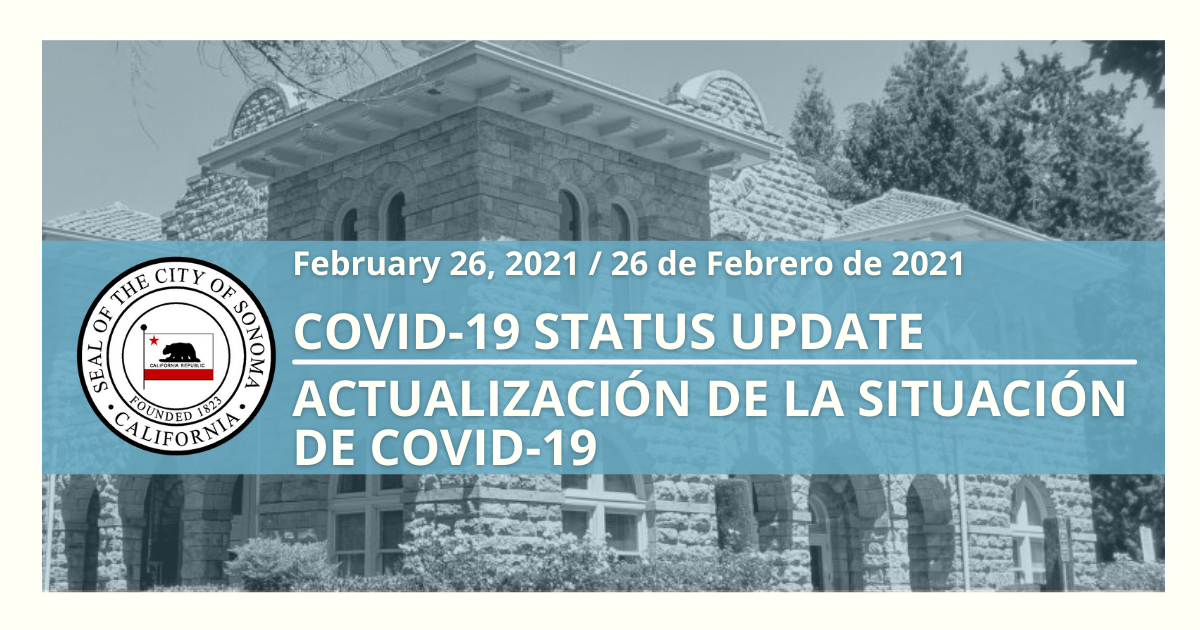 Para traducir esta página, desplácese hasta el final, haga clic en "Translate", y seleccione su idioma.
Sonoma County remains the most restrictive "purple" tier in the state's framework.  As of February 23rd, the County has 14 new daily cases per 100,000 (down slightly from 14.2 last week), a test positivity rate is 4.6 percent (up from 3.9 percent) and an equity metric positivity rate of 7.7 (up from 5.4 percent). The County needs to be below 7 daily cases as well as have a test positivity rate and equity metric positivity rate below 8 percent for two consecutive weeks in order to move into the next less restrictive tier (red).
Help move Sonoma County out of the Purple Tier- Get Tested!
Although our case rate is down significantly in recent weeks, Sonoma County is still experiencing widespread community transmission and test positivity has increased. Knowing your COVID status helps you protect yourself and others, reduces transmission, and helps move Sonoma County closer to getting people back to work and school. You can get tested for free at sites throughout Sonoma County seven days a week and test results are usually given within 24 to 48 hours.
For testing sites throughout the County seven days a week, go to Sonoma County's COVID-19 Testing and Tracing page, and visit the pop-up testing calendar for times and locations of places you can get tested.
7 AM – 7 PM Weekly LHI Mobile Unit at Hanna Boys Center
The LHI Mobile COVID-19 Testing Unit has relocated to Hanna Boys Center 7 am-7 pm 2-3 days/week. The unit will be there today (2/26) through Sunday (2/28). Registration for the self-administered nasal swap test is required, simply:
Register and make an appointment online at https://lhi.care/covidtesting or by calling (888) 634-1123
Arrive shortly before your appointment with your mask and wait in line, have your patient ID number handy!
Check-in with your patient ID number. You will then be handed the testing materials and directed to a window on the exterior of the bus.
A health care practitioner provides you with instructions on administering the test (swap the inside of each nasal cavity 5 times) and return through the window.
Future dates for this unit will be posted on the County's pop up calendar.
2 PM – 4 PM on Wednesdays at St. Leo's
Sonoma Valley Community Health Center offers weekly testing at St. Leo's Catholic Church on Wednesdays from 2 PM – 4 PM. Appointments can be made online at https://sonomacounty.fullslate.com/locations/12058. Click here to watch a Spanish language tutorial on how to make an appointment online.
10 AM – 4 PM on Mondays at St. Leo's – Curative
The County Health Department recommends that only those with symptoms of COVID-19 use this option at this time. These tests are self-administered oral tests. Watch Curative's instructional video in English and Spanish to find out what to expect. Appointments can be made up to 4 days in advance on their website.
School Reopening Plans