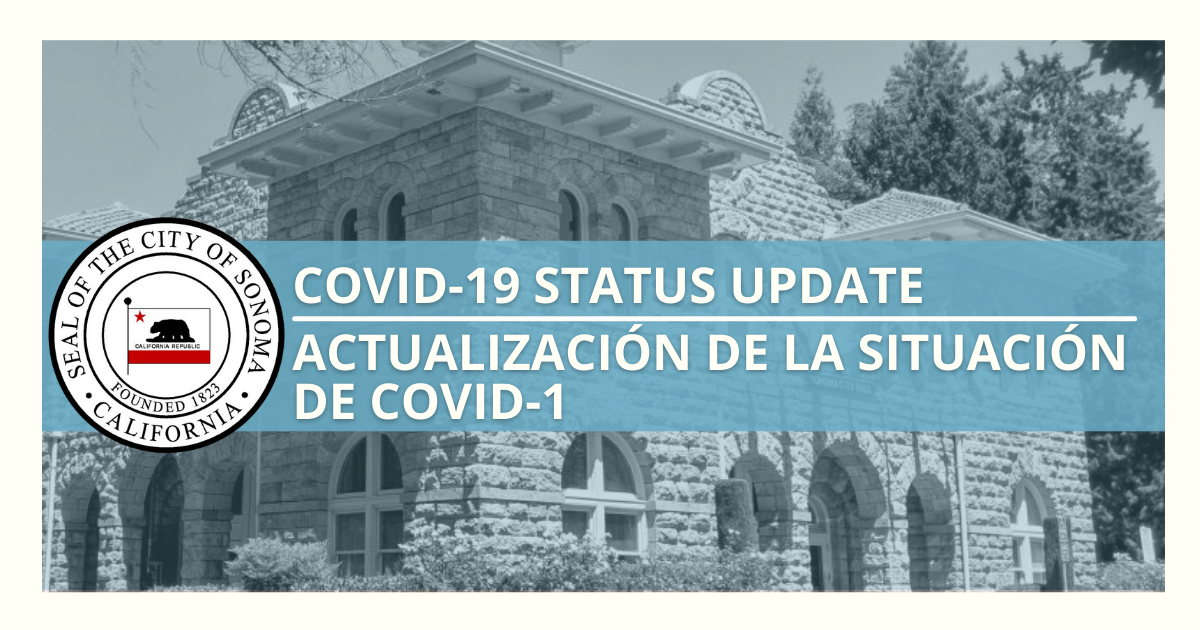 Para traducir esta página, desplácese hasta el final, haga clic en "Translate", y seleccione su idioma.
Sonoma County bans large gatherings, recommends residents stay home as much as possible for the next 30 days as case rates & hospitalizations increase significantly
The County reported a case rate this week of 211.6 new daily cases per 100,000 (up significantly from 56.3), a test positivity rate of 20.5 percent  (up from 13.7), an equity metric positivity rate of 23 percent (up from 14.1), and COVID-related hospitalizations increased from 28 on January 3rd to 80 on Tuesday. See the county's updated Metrics and Trends page for the most up-to-date data.
Due to surging COVID cases and hospitalizations, Sonoma County Health Officer Dr. Sundari Mase on Monday appealed to residents in a recorded statement to stay home as much as possible for the next 30 days and limit interactions with those outside of their immediate household. Dr. Mase recommends that people limit travel outside the home to just going to work or to school and making only necessary trips such as going to the grocery store or the doctor. She also issued a Health Order canceling large gatherings to prevent the further spread of coronavirus in the county. Large gatherings of more than 50 people indoors, or more than 100 people outdoors (where social distancing is not feasible), are prohibited for the duration of the order. The order took effect today and is scheduled to remain in effect until February 11, 2022.
For more information, tune into the County of Sonoma's weekly COVID-19 community briefing for more information. The briefings in English will be streamed live on Facebook Wednesdays at 4 p.m and repeated in Spanish at 4 p.m. every Thursday. Find recordings of past briefings on the county's YouTube channel.
---
Volunteers Urgently Needed
The surge in cases has caused staff shortages for a number of our community organizations that provide critical services to our community. The Sonoma Valley Unified School District and Sonoma Valley Hospital have immediate and acute needs for new support. Learn more about the current needs and find additional volunteer opportunities at SonomaValleyVolunteers.org.
The Sonoma Valley Volunteers website is managed by the Sonoma Ecology Center and the Sonoma Valley Collaborative to help match organizations and volunteers to meet the Sonoma Valley community's evolving needs during the COVID-19 Crisis.  Sonoma Valley Volunteers will allow volunteers to sign up to help with the organizations of their choice and is regularly updated with new volunteer opportunities.
---
Residents encouraged to upgrade facial coverings
Residents are encouraged to upgrade the quality of face coverings from a cloth mask to a surgical mask or a KN95, KF94, or N95 mask as cloth masks are less effective in stopping the spread of the omicron variant. See the latest state guidance on masks.
---
Testing opportunities
Demand for testing is making it difficult to get tested at a site or to obtain at-home tests. The county is working to increase the availability of testing, both PCR and antigen and the state and federal governments hope to supply more free at-home tests soon. Find additional pop-up testing locations and make an appointment on the County's testing page or call the hotline at 707-565-4667. The hotline is available to help residents sort through their many testing options in Spanish and English.
Pop-Up Testing in Sonoma Valley:
Monday – Friday, 7 am – 2 pm at the Fiesta Plaza 18615 Sonoma Hwy., Sonoma. To make an appointment: Visit the Curative website or call (888) 702-9042.
Monday – Friday, 9 am – 12 pm at Sonoma Valley Community Health Center, 19270 Sonoma Hwy, Sonoma CA 95476. Must Call (707) 939-6070.
Sundays, 8 am – 2 pm at the Boyes Hot Springs Park and Ride at Hwy.12 & Thompson Ave., Boyes Hot Springs. To make an appointment: Visit the Curative website or call (888) 702-9042.
---
Vaccine Updates and Clinics
Public health agencies across the Bay Area urge everyone eligible to get vaccinated and, if eligible, get a booster shot right away to protect against the rapidly spreading Omicron variant. Vaccine appointments are now available for anyone 5 years or older who wants one at one of the many clinics, pharmacies or health centers in the County. Go to MyTurn.ca.gov to find an appointment that works for you and find a list of local clinics on the Sonoma Valley Health Partner Website.
Boosters strongly recommended to protect against Omicron variant
Widely available via appointment or drop-in sites, boosters maintain the power of vaccines to strongly protect against severe illness and death from COVID-19. Everyone should get one when eligible, particularly those over 50 or those with significant underlying health conditions.
Get one if you are at least 12 years old and:
5 months have passed since your second dose of Moderna (18+)
5 months have passed since your second dose of Pfizer (12+)
Vaccine Clinics for children ages 5-11  (pediatric 1st dose, 2nd dose, boosters for those eligible)
More than 39% of the County's 5-11-year-olds have received at least one dose of Pfizer's pediatric vaccine as of this week. Parents who have health care coverage are encouraged to reach out to their pediatrician, local pharmacy, or the State's MyTurn website to find a vaccination appointment or attend one of the Sonoma County Office of Education school site clinics intended for students and their families, more clinics will be added soon, visit the Sonoma County Office of Education website for a complete list.
Vaccine Clinics for 12+ in Sonoma Valley  (1st dose, 2nd dose, additional dose & boosters):
Wednesdays & Thursdays, 5:00 – 7:00 pm at Sonoma Valley Community Health Center, 19270 Sonoma Hwy, Sonoma CA 95476. Walk-ins welcome. For questions call (707) 939-6070
Saturdays, 12:00 – 3:00 pm at Sonoma Valley Community Health Center, 19270 Sonoma Hwy, Sonoma CA 95476. Walk-ins welcome. For questions call (707) 939-6070