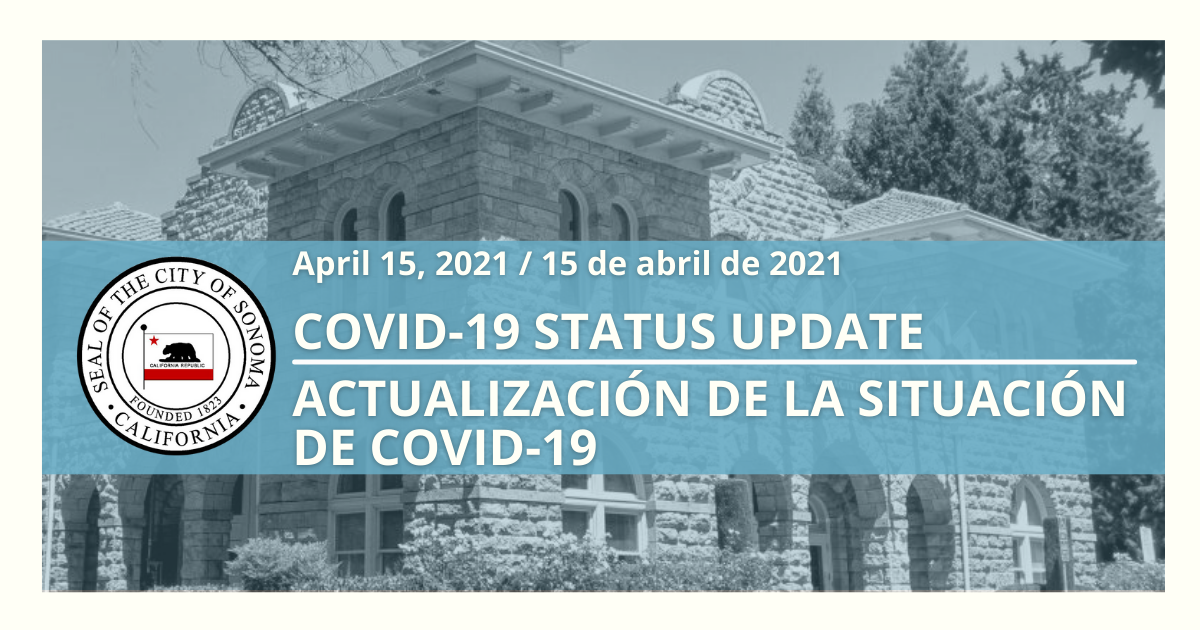 Para traducir esta página, desplácese hasta el final, haga clic en "Translate", y seleccione su idioma.
Sonoma County reopening metrics continue to improve this week and we remain in the "orange" tier in the state's framework.
This week, the County has 3.9 new daily cases per 100,000 (needs to under 2 to move to yellow tier), a test positivity rate of 1.6 percent and an equity metric positivity rate of 1.9.
Want to help Sonoma County get into an even less restrictive tier? Keep up the good work by continuing to follow the mitigation measures we are all now so familiar with – wear your mask, keep your distance, practice good hand hygiene, limit gatherings and consider getting tested for COVID-19.
---
Pop Up Testing Opportunities in Sonoma Valley This Week
County health officials recommend that everyone who goes into public – even if they don't have any symptoms and/or have been vaccinated for COVID-19 – get tested at least once per month and those who regularly interact with the public get tested twice each month. The County of Sonoma continues to increase access to free COVID-19 testing, find options in Sonoma Valley below or visit socoemergency.org/test for a complete list.
MONDAYS, 10 AM – 4 PM at St. Leo's – Curative | These tests are self-administered oral tests. Watch Curative's instructional video in English and Spanish to find out what to expect. Appointments can be made up to 4 days in advance on their website.
WEDNESDAYS, 2 PM – 4 PM at St. Leo's | Weekly testing at St. Leo's Catholic Church on Wednesdays from 2 PM – 4 PM. Appointments can be made online at https://sonomacounty.fullslate.com/locations/12058. Click here to watch a Spanish language tutorial on how to make an appointment online.
FRIDAYS, 9:30 AM – 11:30 AM at Sonoma Valley Church of the Nazarene | Weekly testing at Sonoma Valley Church of the Nazarene on Fridays from 9:30 AM – 11:30 AM. Appointments can be made online at https://sonomacounty.fullslate.com/locations/14818. Click here to watch a Spanish language tutorial on how to make an appointment online.
2/3 Days a Week, 11:00 AM – 7:00 PM, LHI Mobile Unit at Vintage House | The LHI bus will be at Vintage House Friday (4/16) & Saturday (4/17) and returns next week Friday (4/23) through Sunday (4/25).  Registration for the self-administered nasal swap test is required. Make an appointment online at https://lhi.care/covidtesting or by calling (888) 634-1123
---
Vaccine Distribution
This week, Sonoma County has now surpassed 369,985 vaccine doses administered. As of Wednesday, about 56 percent of Sonoma County's adult (16+) population have received at least one dose of the vaccine.
As of April 15th, all residents 16 and older are now eligible for vaccination.
Health officials caution that not everyone who wants to get vaccinated will be able to secure an appointment right away, but those interested should register now with www.myturn.ca.gov or call 1-833-422-4255.
For more links to local and regional vaccine clinics, sign up for eligibility notifications, find help getting to a vaccination appointment and more visit our COVID-19 Vaccine Information page,
www.sonomacity.org/covid-vaccine/
Help for those having trouble scheduling a second appointment
If residents are experiencing difficulty in scheduling their second vaccine appointment, they can email vaccinehelp@sonoma-county.org. Some sites, including OptumServe, are experiencing difficulty as they make the full transition to the state's MyTurn site.
Johnson & Johnson vaccine pause
Federal and state authorities on Tuesday, April 13, ordered an immediate pause on further use of the Johnson & Johnson (Janssen) COVID-19 vaccine while its safety is being reviewed by federal authorities. Johnson & Johnson vaccine has been paused in Sonoma County pending those reviews, the County does not expect that this interruption will have a significant impact on vaccination efforts in Sonoma County.
People who have received the J&J vaccine who develop severe headache, abdominal pain, leg pain, or shortness of breath within three weeks after vaccination should contact their health care provider, according to the CDC.
---
Emergency Rental & Utility Assistance Program to launch on April 19
The County will begin providing support to households impacted by COVID-19 through the Emergency Rental Assistance Program (ERAP) starting on Monday, April 19. The program will provide payment assistance for tenants who are behind on rent and utilities. ERAP additionally provides options for landlords to participate and receive financial assistance. This program is open to all County residents, regardless of immigration status, who are renters or landlords requiring rental assistance.
Applicants can apply starting on Monday, April 19 on SoCoEmergency.org, by calling 2-1-1 for an operator to assist in English and Spanish.
---
State Issues Guidance for Gatherings, Events and Performances
Updates to the state's Blueprint for a Safer Economy reopening framework for gatherings, private events or meetings such as receptions or conferences, and indoor seated live events and performances went into effect this week.  Find more information and required safety measures in the state's guidance documents for gatherings, for private venues and events, for outdoor events and live performances and for industry guidance for indoor events and live performances. Updates to the Blueprint for counties in the orange tier include:
Informal outdoor social gatherings:
Will be allowed with a maximum of 50 people.
Maximum of 25 percent capacity in settings where capacity limits exist or 25 people or
whichever is fewer.
No defined guest list required.
No testing or vaccination required.
Informal indoor social gatherings:
Indoor gatherings, while still strongly discouraged, are allowed with modifications (no food/drink except when following the standards in the guidance)
Private events (meetings/receptions/conferences):
Outdoors with a maximum of 100 people; if all guests are tested or show proof of full vaccination, a maximum of 300.
Indoors if all guests are tested or show proof of full vaccination with a maximum of 150 people.
Required mitigation measures: Purchased tickets or defined guest list; seating chart/assigned seating; no intermingling of multiple private events.
Indoor seated live events and performances
All venues:
In-state visitors only, check for current CDPH Travel Advisory in effect
Weekly worker testing program
All tickets delivered digital, advanced purchase only
Pre-designated eating area (no eating/drinking allowed in seats)
Venues 0-1,500 capacity
Maximum 15 percent or 200 people
35 percent if all guests are tested or show proof of full vaccination
Venues 1,501 and above
10 percent capacity or 2000 people, whatever is fewer; no eating/drinking
35 percent if all guests are tested or show proof
Find updates for all tiers in the state guidelines.