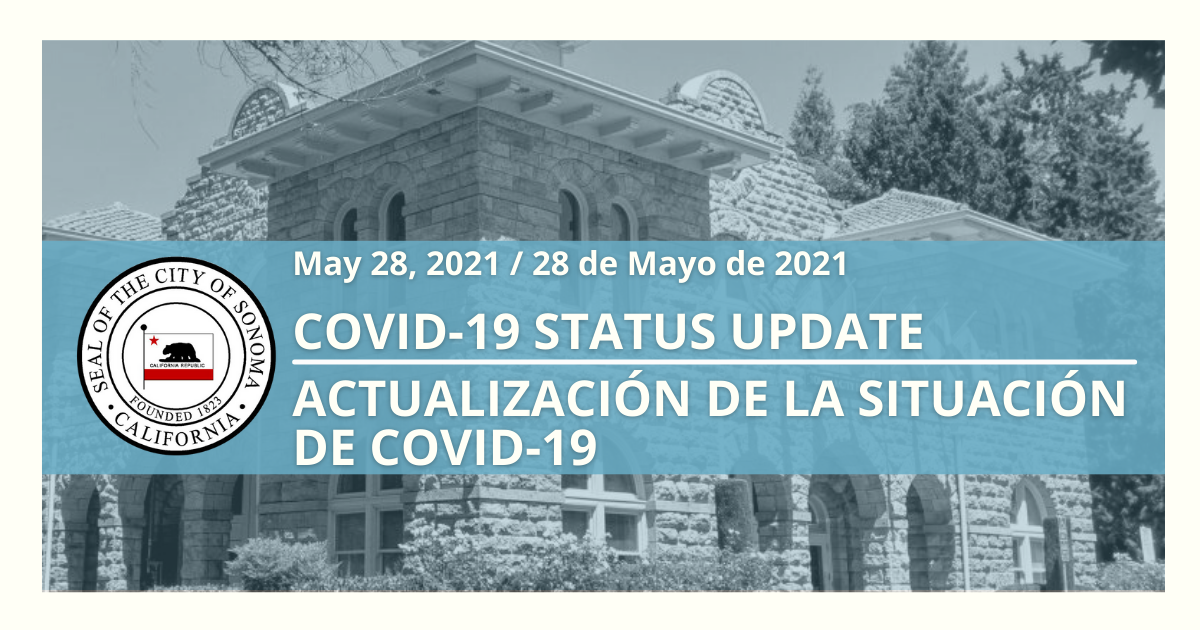 Para traducir esta página, desplácese hasta el final, haga clic en "Translate", y seleccione su idioma.
Vaccine Clinics in Sonoma Valley This Week
70 percent of our eligible population in the County have now received at least one dose of the vaccine! Just a few weeks ago, vaccine appointments were hard to come by. Now, they are plentiful, and anyone 12 years or older who wants one can get an appointment at one of the many clinics, pharmacies or health centers in the County — often the same day. Many are also accepting walk-in patients. Just go to MyTurn.ca.gov to find an appointment that works for you and find a list of local clinics on the Sonoma Valley Health Partner Website.
Vax for the Win! State announces vaccine incentive program
Are you already vaccinated or about to be? Great! You'll have a chance at winning $50,000 or a grand prize of $1.5 million!
Not yet vaccinated against COVID-19? Get vaccinated as soon as possible to be eligible for a $50 incentive card and other cash prizes. Learn more on the State's Vax for the Win website.
Lyft, Uber offering free rides to vaccine appointments through July 4th
Uber and Lyft are offering credit off rides to COVID-19 vaccine appointments.
Uber is offering riders four one-way rides up to $25 off each, daily between 6 a.m. and 8 p.m.
Lyft is offering two roundtrip rides up to $15 each trip. Each of these round trips must be three weeks apart.
For more information and access instructions, visit:
---
This Week's Testing Opportunities in Sonoma Valley
County health officials recommend that everyone who goes into public – even if they don't have any symptoms and/or have been vaccinated for COVID-19 – get tested at least once per month and those who regularly interact with the public get tested twice each month. The County of Sonoma continues to increase access to free COVID-19 testing, find options in Sonoma Valley below or visit socoemergency.org/test for a complete list.
WEDNESDAYS, 9:30 AM – 11:30 AM at Boyes Hot Springs Park and Ride | Weekly testing at the Park and Ride on Hwy 12 and Thompson Ave. Appointments can be made online at https://sonomacounty.fullslate.com/locations/15996 or by calling (707) 565-4667.  Click here to watch a Spanish language tutorial on how to make an appointment online.
WEDNESDAYS, 2 PM – 4 PM at St. Leo's | Weekly testing at St. Leo's Catholic Church. Appointments can be made online at https://sonomacounty.fullslate.com/locations/12058 or by calling (707) 565-4667. Click here to watch a Spanish language tutorial on how to make an appointment online.
---
Reopening Metrics & Case Rates
Sonoma County remains in the "orange" tier in the state's framework. California and Sonoma County are on track to fully reopen by June 15, if hospitalizations stay low and Californians continue to get vaccinated. When California fully reopens the economy, the state will move "Beyond the Blueprint" for a Safer Economy. Common-sense health measures such as masking will remain across the state.
This week, the County's adjusted case rate held to  2.2 new daily cases per 100,000, a test positivity rate of .7 percent, and an equity metric positivity rate of 1.2. If Sonoma County's case rate fall below 2, the County could move to the less restrictive "yellow" tier.
Want to help Sonoma County get into an even less restrictive tier and fully reopen by June 15th? Keep up the good work by continuing to follow the mitigation measures we are all now so familiar with – wear your mask in indoor public spaces and when in crowds, keep your distance, practice good hand hygiene, limit gatherings and consider getting tested for COVID-19.
---
Stay Safe Sonoma! Residents urged to follow appropriate protocols over Memorial Day
While a growing number of us are fully vaccinated against COVID-19, health officials say that we all need to continue to use appropriate mitigation measures as there is a continued risk of transmission, especially with Memorial Day weekend approaching. CDC Director Dr. Rochelle Walensky on Tuesday said that those who are unvaccinated are still at risk and should wear masks when appropriate and consider taking advantage of the long weekend to get their shots. She urged those who are fully vaccinated to have a "happy, safe" weekend.